No life on the earth's surface would be possible without a continuously active, invisible force that shields us.  It is the earth's magnetosphere, a powerful magnetic field which is generated in the earth's outer core.
Earth is relentlessly bombarded with ionized particles which are deadly to all living things.  The source of these particles is the sun's solar wind and cosmic rays.  These cosmic rays are emitted from other stars, pulsars, and other stellar activity throughout the universe.  The universe is a very hostile place.  But thanks to the earth's magnetic field, its atmosphere, and its location in the galaxy, this rare oasis is a safe place for organisms to live and thrive.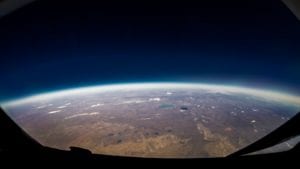 But how exactly is the earth's magnetic field, something we cannot even see, generated.  For many years scientists have known that the movement of molten iron in the earth's outer core generates this magnetic field.  But only recently have scientists learned that this fluid motion of iron is further facilitated by another factor.  At least two other elements, also abundant in the earth's core – oxygen and silicon, create a buoyancy for the movement of the molten iron.
You know, it's truly amazing that all this activity, of which we were completely ignorant a century ago, is keeping us all safe and alive.  It's been providing an invisible force that been protecting us from a lethal threat for thousands of years.  For so long a time, we've had no idea of the danger that surrounded us or of the force that's been protecting us.
The spiritual side of this is every bit as real.  There is an unseen, but almighty force that is continuously active on our behalf.  It is God.  With infinite power, wisdom, and love God is an invisible shield "around about us" (Psalm 3:3; 7:2; 18:2, 35; 28:7; 59:11; 91:4; 119:114; 140:7; 144:2).  God shields us from millions of unseen threats, most of which we will never be aware of until we reach heaven.
A couple of years ago a friend of mine from West Texas related an incident that happened about 35 years earlier.  He and I were hiking with some youth from our church through Caprock Canyons State Park near Quitaque, Texas.  I was only a few feet ahead of him on the trail.  I vaguely remember him rushing up to me at one point, asking, "David, are you alright?"  "I'm fine," I think I replied.  But never thought about the matter again.  Then, more than 35 years later he related the rest of the story to me.  I had just passed a rattle snake which struck at the back of my neck from a rock hidden from view.  My friend was certain that it struck me.  That's why he rushed ahead – to see if I was on the ground, writhing in agony.
I am convinced that this was only one of millions of times God's unseen hand protected me and my loved ones from equally unseen dangers.  So now, every time I go through the list of times God's protected us and delivered us from all our fears (Psalm 34:4), I remember to thank God for something else.  I thank Him for saving me from all those dangers of which I am completely ignorant – and will be ignorant of until God reveals them to me when I reach heaven.
Oh, friend, isn't God relentlessly guarding your spirit, soul, and body?  Isn't His unseen hand protecting you continuously from unseen dangers?  In Psalm 139:17-18, David declared that God is relentlessly thinking of us, that His thoughts of us outnumber the grains of sand.  He foresees every single danger and has a plan in place to protect you from them.  "He who watches over you will neither slumber or sleep … The LORD will guard you from all harm, He will protect your life" (Psalm 121:3-8).  Let's remember to thank Him for His relentless care for us instead of allowing fear and worry to consume us.
PRAYER:  Father in heaven, here and now I praise Your holy name for the many times You've shielded me from certain death and calamity.  Just as I am continually protected from deadly forces by the earth's magnetic field, in the same way I'm protected from certain death and catastrophe by Your almighty, loving, and invisible hand.  Thank You, Lord Jesus, for carrying me close to Your bosom and guarding me from all my enemies – seen and unseen. Amen.
(Information from: Wen-Pin Hsieh, Alexander F. Goncharov, Stéphane Labrosse, Nicholas Holtgrewe, Sergey S. Lobanov, Irina Chuvashova, Frédéric Deschamps, Jung-Fu Lin. Low thermal conductivity of iron-silicon alloys at Earth's core conditions with implications for the geodynamo. Nature Communications, 2020; 11 (1) DOI: 10.1038/s41467-020-17106-7)
---