Don't Dwell There
On August 6, 2021, the United Press International reported the story of a man who fell asleep in a very dangerous place. He sought refuge and took a nap in a wildlife crossing. By wildlife crossing, I mean one of those tunnels which pass underneath highways. They allow grizzly bears, mountain lions, coyotes, and badgers to pass under highways without endangering motorists or themselves. 
This particular wildlife crossing was located under U.S. Highway 93, in western Montana, within the Confederated Salish and Kootenai Tribes of the Flathead Nation. The manager of the Flathead wildlife agency, explained that one of their motion-activated cameras took pictures of a bear passing through the wildlife crossing while a hiker was napping inside. 
The manager tried to explain that the hiker put himself in great danger by choosing such a place seek shelter. He stated that, when his personnel inspect these crossings for repair, "we have bear spray on our hip and are cautious and alert. Mountain lions, black bears, grizzly bears, white tailed bucks and does, coyotes and skunks use them day and night."  On the agency's website, he pleaded with hikers to stay clear of these crossings, since many predators are funneled through them. 
What a place to seek shelter – and worse, to sleep! Yet, often Christian believers can endanger their lives by dwelling in places that are only meant to be crossed as quickly as possible. Sure, we may have to pass through a tunnel that will be shared with wild beasts and predators – spiritually speaking, but we mustn't camp there or lay down to sleep.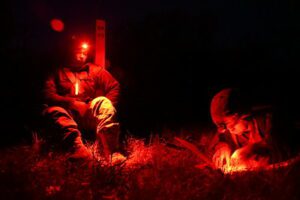 I suspect this hiker was caught in a storm and sought shelter from the rain. He got sleepy and decided to take a nap. But something far worse than raindrops could have touched him.  A bear passed right by him – fortunately, without incident. But it's better to get wet than to get mauled. Bears can be mean.  
What are the "wildlife crossings" through which the Christian pilgrim must pass? One of them is certainly times of grief, anger, bitterness, and depression. These are passages through which those who suffer loss must travel. We cannot always avoid the loss of a loved one, a business, or our health. But God will give us the grace to get through these ordeals. And we must avoid the temptation of prolonging our suffering through self-pity or allowing bitterness to take root in us (Hebrews 12:15). That would be like taking a nap or setting up camp in the wildlife crossing. Anger, resentment, and bitterness can become all-consuming. It's too dangerous a place to remain.  
Temptation will be another passage that we'll cross. I think it was Martin Luther who said, "You can't keep a bird from landing on your head, but you can keep it from building a nest."  It amazes me how short of a lifespan a temptation actually has! Left to themselves, they die out very soon. But we prolong a temptation's life by entertaining it, by letting it walk the corridors of our imagination, and by feeding it. Don't go there. Don't camp there.  
But that's what Lot, Abraham's nephew, did. When Abraham offered Lot choice of the best of the land in Canaan, he chose Sodom. Why, because it reminded him of Egypt – the land of sensual delights and temptation (Genesis 13:8-11). By the time God destroyed that perversely sick city, Lot's soul had been so ravaged by Sodom's sins he was whittled to a fragment of a man. There was little left of him (Genesis 19:1-22, 30-38).  
So, when temptation crosses your path, keep marching on with Jesus. "Resist the devil and he will flee," said James (James 4:7). Satan's a predator and predators never look for a fight. They only go after easy killings.  
Fear is another dangerous crossing for us. Now, some have written on the merits of fear – that it keeps us from injury, helps us avoid unpleasant circumstances, and sometimes saves our lives. Those people who – because of some genetic defect or injury to the brain – have no fear at all, are particularly vulnerable to abuse, accidents, and injury. Therefore, a measure of fear is healthy.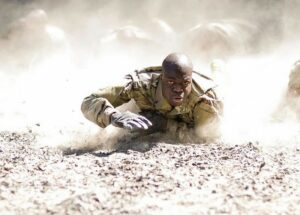 However, fear can turn to a chronic anxiety that will stress us out, ruin our health, and make us a prisoner. Like a wild animal, uncontrolled fear can maul and destroy us. So, fear is not a passage to camp in. If fear keeps coming back to haunt us, then we need to take deliberate action to overpower it. We must feed our souls on the promises of God. Someone calculated that there are over 300 commands in the Bible NOT to be afraid, but to trust in God to care for us. If God tells us so many times not to be afraid, then I suspect there's really nothing to be afraid of – except displeasing Him. 
Consider these imperatives not to fear. "Do not be afraid, for I am with you. Do not anxiously look about you, for I am your God. I will strengthen you. Surely I will help you. Surely I will uphold you with My righteous right hand" (Isaiah 41:10). "Thus says the LORD, your Creator, and He who formed you. Do not fear, for I have redeemed you; I have called you by name, you are Mine. When you pass through the waters, I will be with you; and through the rivers, they will not overflow you. When you walk through the fire, you will not be scorched, nor will the flame burn you" (Isaiah 43:1-2). 
This is where we need to dwell – in the light of God's infallible and imperishable word. We need to stay in the warmth of God's love (John 15:9-10) and in the vast fountain of His grace, opened up to us by Jesus Himself (Romans 5:1-2). Get through those passages of bitterness, temptation, and fear as quickly as you can, as you enrich your soul and fortify your faith on the promises of God. 
PRAYER:  Dear Father in heaven, help me not to expose myself to danger by dwelling where the ravenous wolves of bitterness, temptation, and fear prowl about. Help me to steam through these unpleasant passages and keep my focus on Jesus Christ and on the world to come. Through Jesus Christ I ask this, Amen. 
(Information from: https://www.upi.com/Odd_News/2021/08/06/CSKT-Wildlife-Management-underpass-tunnel-bear-sleeping-hiker/5461628277524/) 
---