Mount Rainer, located in southwestern Washington State, has a topographical prominence of 13,288 feet. In simple terms, this means that from its base to its highest point Mount Rainier rises to 13,288 above the lands to its north, south, and west – and 14,410 feet above the level of the Pacific Ocean. 
God's Attention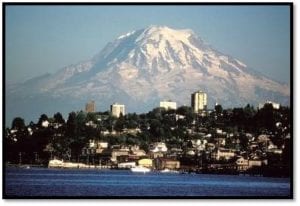 Because it has such a towering profile, Mount Rainier is visible to all of Seattle, Tacoma, Bellevue, Joint Base Lewis-McChord, and Olympia. On clear days it can even be viewed from as far away as Portland, Oregon, and Victoria, located in British Columbia.
This means that just about everyone in southwestern Washington can experience living with a view of this mountain. And just about everywhere I drive throughout this area, Mount Rainier pops up again and again. Mount Rainier is so massive, that people do not have to fight over a glimpse of its majesty since there's enough of this mountain to give everyone a view. Sometimes I forget that the same is true of God.
God is big enough for all of humanity, free for everyone to experience more of Him than they could possibly handle. When God blesses someone else more it doesn't mean He will bless me less, I don't need to be jealous for God's attention. In fact, I couldn't handle God's undivided attention, none of us could. It would be too much for us to experience in our mortal realm. It would be overwhelming if God focused on me and no one else.
There is a story in the Gospels that illustrates this truth. Mark 5:21-43 tells of a desperately concerned father whose twelve-year-old daughter was deathly sick. He came to Jesus and pleaded, "My daughter is at the point of death; please come and lay Your hands on her so she will get well and live!"  Thus, Jesus marched off with the worried father.
However, crowds of people were following them, which slowed down the fathers desperate mission. Among the sea of people was the woman who suffered for twelve years with a sickness of blood. In faith, she reached out and touched Jesus' garment. Instantly, Jesus felt power flow forth from Him and heal the woman. Being who he was, a man of concern and love, Jesus stopped for the one, for the woman who needed him and believed in his ability to heal. But, this also came at a cost to the concerned father, stopping their venture for what the father thought would be fatal to his daughter.
Just Believe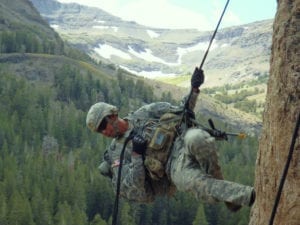 During all this, I can only imagine what thoughts filled this poor father's mind. "Jesus, let's get going!  You're wasting precious time. Don't You understand that my daughter is at the point of death? Why do you delay? Hurry!"
And sure enough, while Jesus is still taking time to help others, servants come from the father's house to tell him, "Don't bother the master any longer. Your daughter has died!" If this father was like any of us, he probably said to himself: "What I feared has come upon me. Jesus, why did you stop to help others in such an emergency? Now my little girl is dead. You helped this woman at the expense of my little girl's life!"
But Jesus corrects this false notion, which often plagues our thoughts, that claims God blesses others at the expense of not blessing me. "Do not be afraid any longer – only believe," Jesus tells the father. The two proceed to the fathers home and Jesus performs a miracle of resurrection on the daughter, safe and sound and free of illness.
Yes, just as Washingtonians don't have fight over a limited number of views of Mount Rainier, so too is there more than enough of God to flood everyone's life with His immeasurable blessings. "Do not be afraid any longer, only believe" (Mark 5:36).
PRAYER
Almighty and merciful Father, I hunger and thirst for Your presence and blessing in my life. You are more than enough, to heal and bless all of humanity. Please satisfy this yearning in my soul and draw me ever closer to You. Amen.
---
The content of this article comes from "The Warrior's Bible" (2014) and is copyrighted by Life Publishers International. Used with permission.