On September 14, 2020, the UPI reported on the auctioning off of a significant piece of history. A blood-soaked lock of Abraham Lincoln's hair, wrapped in a telegram sent to Mary Lincoln's cousin, was purchased for $81,250.
The lock of hair was clipped from the President's left temple during the post mortem exam and given to Dr. Lyman Beecher Todd. He was the cousin of the President's widow and was present at the exam.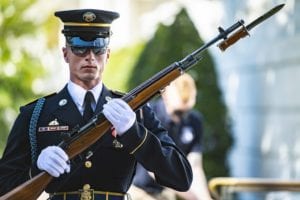 Having nothing in which to wrap the lock of hair, Dr. Todd removed a telegram from his pocket and folded the hair into it. He had received the telegram just moments after the President's assassination on April 14, 1865.
This treasure had remained in the Todd family for generations. RR Auction, who sold it, only expected a price of $77,000. Its new owner now has a tangible piece of one of darkest days in American history.
You know, every once in a while, servants of Christ are tempted to feel like the world is leaving them behind in a cloud of dust. Lands, homes, and treasures are being gobbled up by the ambitious and worldly wise. And the Christian believer, who's been focusing his pursuits on pleasing God, might wonder, "Am I a fool for not chasing wealth? When it comes to tangible riches, I have little to show for all my efforts, little in this life to prove that I've been a success."
But Christian believers must never overlook what they do have in possessing Christ. How does a lock of hair from a dead President compare to the life of the Resurrected Christ indwelling us? Which is of greater value?
I suppose the one owning the lock of hair can count himself fortunate. He owns a piece of history. I suppose he can also consider his purchase an investment. If the lock of hair and telegram are worth what he paid for them – $81,250, then good for him.
But shouldn't the one in whom Christ dwells consider himself infinitely richer? After all, Christ dwelling in us is the guarantee of our glorification in heaven (Colossians 1:27). Christ's indwelling of our hearts is the true sign of His ownership over us (Romans 8:9). It is His indwelling presence that renews us day by day into His own image (2 Corinthians 4:16; Colossians 3:9-10). With Christ's indwelling of our hearts comes the gift of eternal life (1 John 5:12). With Christ dwelling within us comes our triumph over sin, the world, and Satan (1 John 4:4). With Christ's indwelling of our hearts, we become partakers of the Divine nature (2 Peter 1:4) and of the seed – or very life – of God (1 John 3:9). And it is Christ's indwelling of our hearts that guarantees our participation in the Resurrection of the Righteous (Romans 8:11) and in the New Heavens and New Earth to come (2 Corinthians 1:22; 5:5; Ephesians 1:13-14; 4:30). This is why Paul prayed that Christ might dwell in our hearts by faith (Ephesians 3:17). With Jesus comes all His unsearchable riches (Ephesians 3:8).
So don't be fooled by all the value this world places on tangible wealth. Loving those things will choke out the precious word of the Gospel and keep it from producing fruit for eternal life (Mark 4:7, 18-19). Focus instead on the incalculable riches you already have by possessing Jesus Christ. He's infinitely more than a mere "piece of history." He's the Creator and Redeemer of the universe – and He lives in your heart! And Jesus Christ will soon appear from heaven and will transform our corruptible bodies into glorified bodies like His own.
PRAYER: Please open my eyes, O Lord, to the incredible wealth I have by possessing You. Help me, Lord Jesus, to dedicate my fleeting life to prepare for Your judgment seat, by laying up treasures in heaven, I pray. Amen.
(Information from: https://www.upi.com/Odd_News/2020/09/14/Lock-of-Abraham-Lincolns-hair-bloody-assassination-telegram-sell-for-81250/2321600101904/)
---