This place will surprise you.
It's where Häagen Dazs ice cream comes from. But it's not Denmark. And if you've ever driven a Chrysler Cordoba, it may interest you to know that "rich Corinthian leather" also originates from this location. But the place I'm talking about is not Greece or its ancient city of Corinth. According to Pace Picante Sauce TV commercials, some careless cattle drive cooks occasionally try to substitute cheap imitations from this place for the real thing—Pace Picante Sauce of San Antonio, Texas. But it's not surprising that such products come from this mystery location, for it is named for its gardens and known for its vast pineland forests.
It is also one of the largest producers of eggplant in the world, as well as blueberries, cranberries, peaches, and lettuce. And for F Troop trivia buffs, genuine Hekawi Indian war bonnets and tomahawks sold by the friendly Native Americans near Fort Courage, Kansas, were actually manufactured in this exotic mystery land. In fact, did you know that the very first "movie western" (The Great Train Robbery, filmed in 1903) was filmed on the prairies of this place?
Am I talking about Spain, Italy, or Morocco? Not even close. What about California or Arizona or New Mexico? That's much closer, but you'd still be wrong.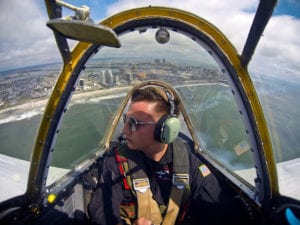 So where is this place? Sorry to disappoint you, but the exotic land is the state of New Jersey. That's right. The very epitome of urbanization, industrial parks, and smokestacks was home to the very first movie western—and why not? There are more horses per square mile in New Jersey than anywhere else in the United States. So, you see, it was quite appropriate for Chief Wild Eagle to say that genuine Hekawi Indian headdresses are actually manufactured in Jersey City, NJ. And it still bears the official name, "The Garden State"—for a good reason. Packed into its 7,000 square miles are more than 9,800 farms covering 790,000 acres of farmland.
I don't intend to sound like a commercial for New Jersey, but it also has 127 miles of Atlantic Ocean coastline and contains 74 miles of the mountainous Appalachian Trail (compared to only 2 miles for West Virginia). And for you ice cream lovers, Häagen Dazs does not come from Denmark. It never did. It was created by a Polish immigrant, Ruben Mattus, in the Bronx, but they soon moved operations to Teaneck, NJ.
My point is this. All places have surprises in store for you. However, those destinations to which God is leading you may not be the ugly "industrial parks" that you envision. Delights and joys await you in the most unlikely places. As the Scripture says, "God can prepare a banquet table in the wilderness" (Psalm 78:19) and make the desert rejoice and blossom like the crocus (Isaiah 35.1).
People have surprises in them as well. Don't judge people by their looks and don't base too much on first impressions. There's a good reason why God has led you to the people in your life and in your workplace. So go into your new situations and locations with confidence in God. He will bless you where He leads you.
PRAYER:
Dear Father in heaven, I place my trust in You. I trust in Your wisdom that always executes the most perfect plan in the most perfect way. I trust Your love that surrounds me, sweetens my bitterness, heals my soul, and turns every curse into a blessing. And I trust Your power which protects me, supplies my needs, and overthrows every weapon fashioned against me. Thank You, O Lord, for Your faithfulness in the past—and in the future. Amen.
---
In article photo from: Flight over the boardwalk by the U.S. Air Force licensed under U.S. Govt. Work