On March 24, 1945 the Allied Forces launched Operation Varsity, the largest airborne operation of WWII. At this time, 17,122 American and British paratroopers – along with many glider-borne Soldiers – landed just east of the Rhine River to breach the final obstacle on the road to Berlin.
The Desperate Cry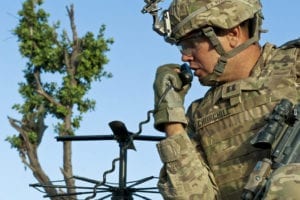 Among the 1,300 or so gliders, one from the U.S. 17th Airborne Division contained loads of mortar rounds. Flight Officer Harold W. Morgan was piloting the glider and was accompanied by three other Soldiers. Morgan safely landed the aircraft, but immediately came under fire from a company of German Soldiers. As enemy rounds began flying into the glider (and into the cases of mortar shells), Morgan shouted to his fellow Soldiers, "We've got to get out of here before she blows!"
As they dashed out of their death trap, the glider's co-pilot received neck and chest wounds by light arms fire. Morgan grabbed hold of him and began dragging him to a nearby pond. In his desperation he cried out to God, "Please, God, get us out of this alive – and help me find medical help for my co-pilot!"
Divine Provision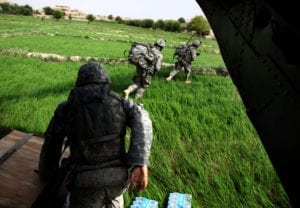 No sooner had they reached the pond when another 17th Airborne glider landed 50 meters away. This one, however, contained a detachment of medics, which saved the life of Morgan's co-pilot and helped bring the entire group to safety.[i]
You know, there are those times when all hell breaks loose and we wonder, "What in the world is going on?" Like those Soldiers caught between enemy fire on one side and a stack of explosive rounds on the other, we ask the same question. Then, as if to remind us of our own vulnerabilities, one may possess an injury. At that moment we might face the temptation to despair and conclude that God fled the scene and His promises are no longer valid.
Not Forsaken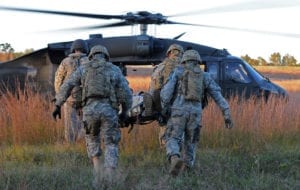 But we couldn't be more wrong. God is with us in the very trouble that we fear separates us from Him, and He will answer our cries for help. When the apostle Paul thought about the hundreds of fellow believers that were experiencing death for their faith, he asked the question, "Who shall separate us from the love of Christ? Shall trouble or hardship or persecution or famine or nakedness or danger or sword? As it is written: 'For your sake we face death all day long; we are considered as sheep to be slaughtered.'
"No, in all these things we are more than conquerors through him who loved us. For I am convinced that neither death nor life, neither angels nor demons, neither the present nor the future, nor any powers, neither height nor depth, nor anything else in all creation, will be able to separate us from the love of God that is in Christ Jesus our Lord" (Romans 8:35-39).
If your world is crashing down around you, do not despair. God is with you, in that crisis, and He will answer your cries for help. "God is our refuge and strength, a very present help in trouble" (Psalm 46:1).
Prayer
Lord, please help me in this crisis. Surround me with Your presence and love. Preserve me and those I love in the midst of this chaos. Keep me safe, O Lord, until the storm passes by. Amen.
---
[1] (Information from William B. Breuer, Bizarre Tales from World War II, pp. 95-96)