"Let us hold fast the confession of our hope without wavering, for he who promised is faithful." Hebrews 10:23
"These are the times that try men's souls," Thomas Paine wrote when he published a series of eighteenth-century pamphlets he labeled, The American Crisis. It was during the American Revolution when hope grew dim and hearts were faint.
Some might suggest that the world-wide "pandemic" is much worse. Many would probably agree with President Trump when he said, "We're at war, at war with an unseen enemy." That's not an exact quote but it represents the gist of what he said.
Not Panicking
The world has experienced many wars, famines, and diseases. It's a sad fact. We live in a fallen world. The Bible says, "the whole creation has been groaning together in the pains of childbirth until now" (Romans 8:22) in the hope of deliverance from the "futility" that was brought about by the entrance of sin. Indeed, believers "groan inwardly" waiting "eagerly for … the redemption of our bodies" (Romans 8:23).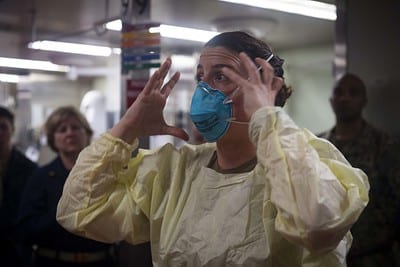 No one knows how many lives will be lost to COVID-19. By some accounts, the virus may be petering out in China and South Korea, leaving a tsunami-like devastation in its wake. In the United States, we've yet to experience its full effect.
How have you prepared for the impact of the virus in your life? It's here and all of us have already been affected. We can only influence its affect so much. We can't control it completely. Are you prepared? Prepared spiritually? That's a question for all of us.
Besides adherence to government guidelines, hunkering down, minimizing travel, and social distancing, etc., how is the current reality affecting your faith?
Holding Fast to the Faith
In the first century, the early church experienced tragedies, famines, and persecutions. They were particularly targeted by people who opposed their Christian faith. They were imprisoned and some were executed. They needed encouragement. Solid, fact-based truth that could inspire them to press on. This is the context for our Hebrews 10 passage. Let's look at it more closely.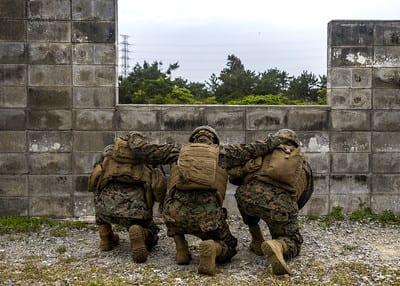 The apostolic writer enjoins these believers to "hold fast the confession of our hope" (Hebrews 10:23). What does he mean? Know who you are and what God has done for you in Christ. Hold to what you believe.
Earlier in the passage, he tells us that everything has changed for the better. Through Jesus, we've gained a "new and living way" to experience a vital relationship with God. Jesus broke the walls down. In the imagery of the Old Testament temple, He tore the temple curtain down, providing a way for all to directly access God. How is that? Jesus shed his very own blood to make it so. He made the sacrifice. This is no small matter. It changed everything … everything!
Think about it. Despite our suffering, despite even our dying, we now have a certain hope of redemption. Why? God made it possible. God promised it; and God never lies. "He's faithful."
Love One Another
So, don't waver. Tack to the wind and let the headwind propel you onward to your destiny. Keep it steady, let the wind slap your face, but hold the course. God's got your back. Do what you need to do to protect yourself and your family. But don't stop believing. Times are tough. For some, real tough. But the Scripture reminds us: "For God has not given us the spirit of fear; but of power, and of love and of a sound mind" (2 Timothy 1:7).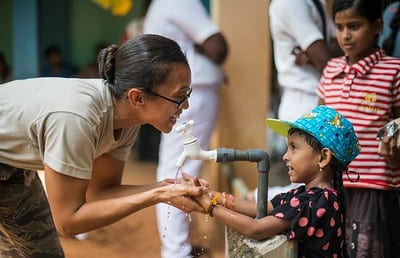 The writer of Hebrews went on to instruct his readers to not only hold fast, but also to "consider how to stir up one another to love and good works, not neglecting to meet together, … but encouraging one another, and all the more as you see the Day drawing near" (Hebrews 10:25).
We may be limited in the way we meet, but given the digital capabilities we have today, there's no excuse. Reach out to others. Encourage each other. Put your love into action. Take that meal together. Most of us are sitting home. Help someone financially. The government doesn't have to do everything for us. Pick up the phone and tell someone you're praying for them. Look for ways to share your faith, your confidence that you've placed in God, giving you hope for the future.
Look to God for Confidence
Many people are in panic mode. You've seen it. The shelves at the grocery store are empty. People are selfish. We don't have to panic, give in to fear because God is in control. He's faithful and will shepherd us through this crisis just like He has done many times before when things looked bleak.
We are people of faith. We know God. The future is bright. "Therefore do not throw away your confidence, which has a great reward. For you have need of endurance, so that when you have done the will of God you may receive what is promised" (Hebrews 10:35–36).
---
In article photos in order of appearance: A Sailor demonstrates how to properly fit an N95 respiratory protective device aboard USNS Comfort (T-AH 20) by the U.S. Navy licensed under CC BY 2.0
All in a Row by the U.S. Marine Corps licensed under CC BY-NC 20
14102277_10153547486661191_7093413613044346707_n by the U.S. Air Force licensed under CC BY-NC 2.0