Let's Gather Together Again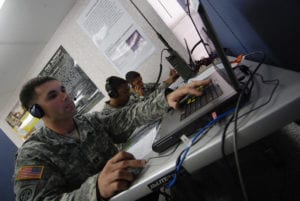 A recent UPI article revealed that a new technology has been developed by the most unlikely source. The makers of Coors Light beer are now offering a way to digitally "create a clone" of yourself. This technology enables you to sneak away from those video conference meetings. You know, those meetings that your bosses use to keep tabs on you, to ensure your participation in the meeting – even if you're sitting at home, only half-dressed.   
Of course, the Coors Corporation has their own selfish interests in mind. They've made it possible for you to take a break from the meeting and sip a cold can of beer. You can download a program from Coors which will record 30-second segments of yourself. It will record thirty seconds of you looking interested, looking down as if you're taking notes, and occasionally smiling and nodding your head. Then it creates a loop that will play these segments, spliced together seamlessly, whenever you want to leave the meeting. 
But there are obvious problems with this new technology. For one, it's dishonest. For another, it's insulting. Making a clone recording to represent yourself at a meeting is insulting to the rest of the group who takes the time to "show up" for the meeting – even if they may be only half-dressed. Of course, corporations can develop technologies to counter these "getaway" schemes.   
But this example does demonstrate the inherent shortcomings of video-conferencing and non-in-person meetings. There is simply no substitute for meeting each other in-person.   
I'm afraid I disagree with people who suggest that the restrictions we've placed upon ourselves in this pandemic constitute the new normal that should be enforced forever. They fail to understand the need for physical contact between human beings. Shaking or holding the hand of another person, hugging, looking into each other's eyes, and physical nearness are essential to our health. Prisoners and their loved ones who can only speak through a phone and touch each other with a glass plate between them could certainly attest to that. Indeed, under these present restrictions, most Americans sense the harm and feeling of futility these measures impose upon us.   
The writers of Scripture would certainly agree with us. We are most grateful for the epistles which the Lord's apostles composed. But these apostles would have much rather dealt with issues of the church in person (e.g. 1 Corinthians 5:3-5; 2 Corinthians 10:9-11; 2 John 1:12; 3 John 1:13-14). Clearly, there is no substitute for person-to-person encounters. God's command to not forsake the assembling of ourselves together (Hebrews 10:25) is still valid. Paul's admonition to "greet each other with a holy kiss" (Romans 16:16; 1 Corinthians 16:20; 2 Corinthians 13:12; 1 Thessalonians 5:26) cannot be followed via a computer screen. 
Communicable diseases and infections were hurting people in the First Century, just as they are today. The apostles were certainly aware that some illnesses could pass from person to person. But since most or all of the apostles spent time in prison, they also knew that physical isolation was far more hurtful to humans than any sickness. 
Take precautions. Exercise wisdom. But when an opportunity avails itself to meet with God's people for prayer, worship, and Bible study – and you are perfectly healthy – go for it. Isolation can become a tool of Satan to destroy us with fear and depression. Hot coals piled together fuel each other with their heat. But if separated individually, they'll begin to cool down and smoke. In the same way Christian believers will encourage each other and fuel each other's faith. But isolation will kill them.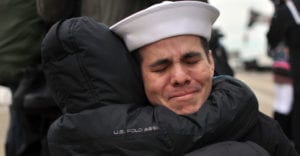 PRAYER: Dear Father in Heaven, please revive and protect Your people as they come together again to worship You and to encourage each other. Please meet with Your people in a powerful way as they gather together. Please heal them in spirit, soul, and body and meet their needs according to Your riches in glory. Through Jesus Christ our Lord. Amen. 
(Information from: https://www.upi.com/Odd_News/2020/05/14/Beer-companys-Clone-Machine-allows-video-chatters-to-sneak-away-unnoticed/5271589477056/?sl=19) 
---