I struggle with being humble in a world defined by rank and recognition.
What I Do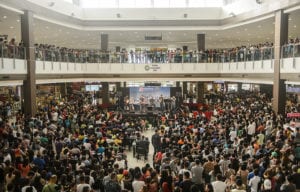 I readily admit there is a part of me that enjoys having more rank because promotion has a way of defining who I am. Public recognition, though it may be embarrassing at times, gives me concrete proof that what I am doing has value. The challenge coin given by a flag officer, a stellar performance report, or even a more prestigious medal feed my need to measure myself against others. My identity as a person is characterized by what I do and how well I do it.
King (and General) David of the Old Testament had a similar struggle. Leading an army and a kingdom is a herculean task because it's impossible to please everyone and mistakes will be made. David needed to remind himself that his identity and hope must be in more than size of his arsenal.
Greater Rank
He wrote long ago that "Some trust in chariots and some in horses, but we trust in the name of the Lord our God" (Psalm 20:7). In David's day, the person who had more chariots and more horses had greater rank. Those were the premier weapon systems of the day. Of course, the more weapons and rank a person had, the more recognition he would receive. Horses and chariots were more than tools of war, they defined the person.
Trust in God
David writes a song reminding us of our need to trust in God and who He is. The word he uses for "trust" means to make remembrance of something. He wants us to remember where our identity is found, and it's not in rank and recognition.
Why is that? First, there is always someone of higher rank than us. Second, no matter how much rank and recognition we receive, it will never be enough. Third, we fail, and we fail often. Our performance reports never tell the whole story because they typically leave out our mistakes.
There is only one source that should determine our identity and that is what God says about us based on what He has done and continues to do for us. If we have trusted Christ for salvation, God declares us forgiven, righteous, holy, and redeemed. He not only declares those things about us, He ensures they are permanently recorded in our heavenly performance report. He then transforms us to match His declaration. All this comes at a cost, not to us, but to His Son, Jesus Christ. The book of Hebrews is all about Christ having the highest rank and receiving the greatest recognition in heaven. He gave them up for a time to live on earth and die for us, and now He shares all the rights and privileges of His rank with us!
The military and the world can never give you so great a gift. So, where do you find your identity?
PRAYER:
Lord, I so often find my worth, value, and identity in what I do. I place too much importance on rank and recognition, looking to them for things they cannot do. Remind me again today that You have declared me clean, forgiven, pure, and perfect in Your sight because of what Jesus has done. Help me to find my identity not in what the world says, but in what You say.
---
In article photo: The Pacific Fleet Band performs at Robinsons Mall during Pacific Partnership 2015. by U.S. Navy Page licensed under U.S. Gov Works