On June 3, 2015 the United Press International reported that a terrifying sight confronted people coming out of their summer bungalows on the New Jersey coast.
Perception from Assumption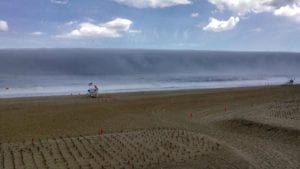 Now maybe the folks along the coast of New Jersey have plenty of reason to be a bit jittery. They still have vivid memories of the storm surges that ravaged their homes when Hurricane Sandy hit in 2012, killing 232 people and causing $68 billion in damages. Understandably, these folks give greater attention these days to whatever storms may loom on the horizon.
But nothing prepared them for the shock they suffered one morning when they glanced up at the Atlantic Ocean. There, before them, was a towering tsunami moving in their direction. Yes, a giant wall of water that signaled their doom and left them no way of escape.
But wait a minute. Something's amiss. The wall of water is taking too long to reach the shore. What's going on? The lifeguards don't seem to be too alarmed. Why, it's not a tsunami after all! It's a thick bank of fog that's rolling in, nothing else!
Yes, that's all it was on that frightful morning in June. Warm air above the cool waters of the Atlantic generated a thick layer of fog – something that's commonplace on the West Coast, but almost unheard of on the East. Though their hearts skipped a beat at first glance, a closer, more sober look revealed there was nothing to be frightened of at all. It was a phony tsunami.[i]
Manufactured Fear
You know, people in America are bombarded with phony tsunamis every day. Everyone who listens to the radio, watches TV, reads the newspaper, or visits on-line news sites is inundated with hyped-up stories with any conceivable negative spin that our media can cook up.  Manufacturing fear is big business in America.  It sells products, motivates people to invest their money in gold, mobilizes the masses to environmental and political concerns, and drives people to buy all kinds of health and medical remedies. Bad and frightening news sells – the more shocking the better. Our media has conditioned us to fear and hate our neighbor, who we're convinced is plotting against us.
But this long-term sensory overload of fear is bound to adversely affect our mental health and create in us a chronic state of anxiety, hyper vigilance, and depression. It will have us interpreting every bank of fog as a towering tsunami, poised to destroy us. This steady diet of fear will fill our minds with shadows and imaginary dangers. Fear is a destroyer.
Liberating Promises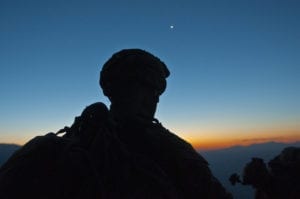 That's why it's imperative for us to take charge of our runaway fears and subdue them with the liberating truth of God's promises. St. Paul commanded us, "Fix your thoughts on what is true, and honorable, and right, and pure, and lovely, and admirable. Think about things that are excellent and worthy of praise" (Philippians 4:8). We are discriminating about what we put in our bodies. Shouldn't we also be careful about what we put into our minds?
Paul also wrote, "Don't worry about anything; instead, pray about everything. Tell God what you need, and thank him for all he has done. Then you will experience God's peace, which exceeds anything we can understand. His peace will guard your hearts and minds as you live in Christ Jesus" (Philippians 4:6-7). So the next time you see a tsunami on the horizon – heading straight for you – don't worry about it but pray about it. Chances are it's only a phony, nothing but a scary bit of fog.
Prayer
Dear Father in heaven, I am so weary from phony tsunamis and false alarms. I have let my imagination get away from me as it's vividly portrayed the most terrifying disasters. Please help me to get into the habit of praying about those things that frighten me and giving You thanks for Your faithful care and provision through all my days. Amen.
---
[i] (Information from Ben Hooper, "Fog bank gives illusion of tsunami wave in New Jersey," UPI, June 3, 2015, http://www.upi.com/Odd_News/2015/06/03/Fog-bank-gives-illusion-of-tsunami-wave-in-New-Jersey/7361433352441/)