At a recent Mobilization Conference, the Fort Jackson Family Life Chaplain, MAJ Ike Eweama, shared a devotional thought with the rest of us chaplains.
He told the story of his long deployment to Afghanistan which was immediately followed by another 6-month separation from his family when he attended the Chaplain Career Course. During the brief period between his redeployment and the start of his class, he worked furiously on a "honey do" list his wife had prepared. Among his tasks was one to "clean house" of all the things he didn't want anymore. One of these items was a half-used bottle of his favorite cologne. He tossed it in the trash. But mysteriously it reappeared in the kitchen. He tossed it in the garbage again. And again, the bottle of cologne re-emerged in the kitchen. What was going on?
His own children revealed the secret. They were the ones who kept pulling the bottle of cologne from the trash. Why? They wanted to keep the cologne because it reminded them of their father. The cologne comforted them when he had been in Afghanistan. And they wanted to keep it for the time when he would be gone for his 6-month class.
He explained that God wants His servants to exude the sweet aroma of His love amidst the stench of sin. That is our mission on this cruel and cold planet. We should be the fragrance of our heavenly Father—showing the love, kindness, and gentleness that a wounded world is yearning for. As that chaplain's children yearned for the fragrance that reminded them of him, so the world yearns for the love that reminds them of God.
Unfortunately, too many of God's servants only reflect the world around them. They're no different than the hostile military environment in which they serve. Maybe they've lost touch with the God who called them. Maybe they're simply trying to be "one of the guys." But they've become like salt that has lost its savor. They've lost their "seasoning power" and healing properties (Matt. 5:13). As a result they serve no useful purpose, since they fail to provide the one rare commodity that is tragically absent from the military environment.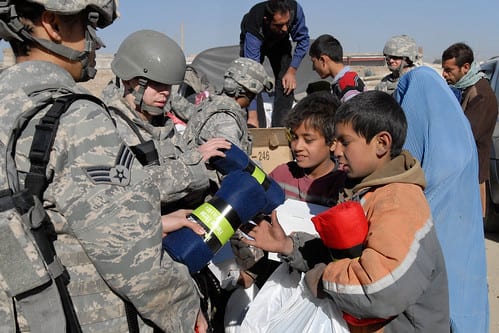 Isn't the Evangelical ministry in the civilian world just as guilty? In a harsh and violent world, they are far too combative and caustic in their evangelism and attitude toward the lost. Many of us are far too busy fighting sinners and viewing them as the enemy. We're failing to trust in God's grace to do its transforming work in their lives. It's as if we really don't trust the seed of God's word to do its life-changing work in sinner's hearts without our intervention. We feel impelled to buffet and stomp the ground around it. Look at the parable of Jesus in Mark 4:26–29.
Yet, we may be the only sweetness, gentleness, and love that the unbelieving will ever know. It behooves us to stand poised to bless, rather than to trade blows. We should be blessing others, not cursing them.
"But," someone will say, "God calls us to be a cleansing agent to society and detergent doesn't always smell nice. It irritates the eyes and may be harsh to the skin." Actually, most laundry and dish detergents and hand soaps have a very pleasant odor. Besides all this, we are not the cleansing agent. The blood of Jesus Christ alone has power to cleanse from sin.
Nor are we the transforming agent. All our brow-beating will never transform the human heart or empower it to rise above its slavery to sin. Only God's Holy Spirit and the Word of God can raise sinners from death in trespasses and sins and make them alive in Christ (Titus 3:5; John 3:6; 6:63; Eph. 2:1–6). Only the Holy Spirit can work in them to desire to do God's will and empower them to do it (Phil. 2:13). Our job is to introduce people to the Life Giver and trust Him to do His saving work in the lives of hell-bound humanity.
PRAYER:
Dear Father in heaven, Please keep me from dishonoring the name of Christ or driving people from Christ by being a caustic and abrasive person. The world is starving for Your love. Please fill me with Your love and help me to share it with all for whom Christ died. Amen.
---
In article photo: 101218-F-0468H-001 by the U.S. Air Force licensed under U.S. Govt. Work