John and Doug were just Junior High School students. But they had caught the Rock n' Roll fever and decided to start their own band.
With money earned from his paper route, John purchased a Sears Silvertone electric guitar and amp for $80 and proceeded to teach himself to play. Doug began with only a snare drum, which he balanced on top of a large flowerpot. Soon they invited Doug's friend Stu, a piano player, to join. The year was 1958. The name of their group was The Blue Velvets.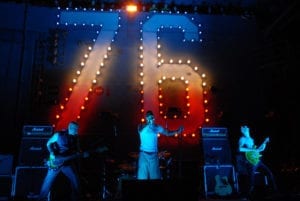 But the Velvets were hardly a success. They could only find a handful of bit jobs, playing at an occasional county fair, at local teen hangouts, or playing as a backup for more prominent vocalists. After John's older brother Tommy joined the group, the Velvets did cut a few records. Sadly, all of them bombed.
Yet the four young men worked on their skills and their sound. By the mid-60s The Blue Velvets changed their name to The Visions. But still success eluded them. They were all forced to work at other jobs—Tommy at a public utilities company, John as a shipping clerk at a recording studio, and Stu and Doug as students at San Jose State College. Then Vietnam boiled over, and John and Doug were drafted. Both served out enlistments in the California National Guard. But even with the distractions, the lack of encouragement, and the meager opportunities, The Visions persisted in honing their skills and seeking every opportunity to play.
They again changed the name of the group—this time to The Golliwogs. Still they worked on their skills, not just as musicians, but also as song-writers, especially John and Tommy. Still they cut a handful of recordings. But still success and recognition did not come.
Then, in 1968, the group took on its forth and final name. And, after ten years of struggling without success, recognition or any affirmation, these four men—John, Tommy, Doug and Stu—finally recorded a hit. The song was "Suzie-Q," a song previously recorded by Dale Hawkins. It was the first of dozens of hit songs that took America by storm over the next two years. The men? John Fogerty, Tom Fogerty, Doug Clifford and Stu Cook. The group? Creedence Clearwater Revival. For a period of just over two years (1969–71)—burst forth on the musical scene with a torrent of super hits: Proud Mary, Bad Moon Rising, Who'll Stop the Rain, Down on the Corner, Fortunate Son, Travelin'Band, Up Around the Bend, and many others. The hits of CCR are considered American classics with an exceptional enduring quality that makes them just as popular today as when they were first released.
Be faithful in the small and menial tasks of life.
CCR's story is a reminder that life has its seasons. Not all of life's seasons are productive. In fact, most of them are not. Most seasons are formative and preparative. Just as a tree goes fruitless for three out of four seasons, all in preparation for the late summer-early fall season of fruit-bearing, so people tend to go through long periods of obscurity, periods of preparation, periods of spiritual formation long before we experience profound success in life. Our task is to be faithful and diligent in those seasons of obscurity, when the work is hard and rewards are few. In the Scripture our Lord taught that he who is faithful with little will be entrusted with much (Matt. 25:21–22). Be faithful in the small and menial tasks of life. For by doing them a greater work is being performed in us—the work of developing our character, determination and faith.
PRAYER:
Heavenly Father, through times of adversity, obscurity, and tedium, help me to faithfully do my best. Remind me that, by my faithfulness in all of life's seasons, you are preparing me for future times of fruitfulness. Amen.
---
In article photo: Scott Stapp performs for USS Ronald Reagan [Image 31 of 31] by DVIDSHUB licensed under CC BY 2.0