Heat of the Race is Not the Time to Celebrate Victory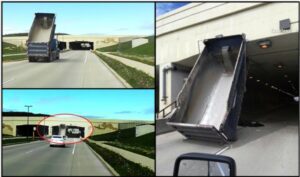 On May 21, 2020 a Wisconsin motorist, Jim Witkowski, was driving near Milwaukee when he spotted something unusual. A dump truck was rolling down the Interstate with its bed fully raised. Jim raced ahead of the truck to try to alert the driver of the hazard. But, seeing a highway overpass approaching, he had to pull off the road to escape any debris from the crash he saw coming. 
In the final seconds before the crash Jim used his mobile phone to record it. The bed of the dump truck hit the overpass at 50 MPH. The impact immediately detached the bed from the cab, which continued traveling for another 50 feet or so. The raised bed became wedged in the entrance of the overpass, obstructing traffic for hours. The dump truck driver sustained no injuries, but his truck was destroyed and the overpass damaged. 
This sort of thing happens more often than you'd think. In fact, it happens so frequently that OSHA and other safety agencies have posted safety bulletins to alert drivers of the hazard.   
What is the cause of so many raised beds of dump trucks and trailers hitting highway overpasses, overhead highway signs, and powerlines?  Almost invariably it's attributed to the driver, rather than to some mechanical failure of the truck. After drivers dump their loads of dirt, rock, and gravel, they simply forget to lower the truck bed.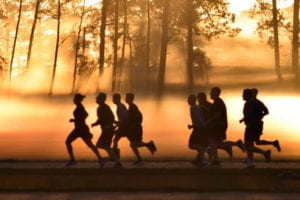 Along with cautioning drivers, safety organizations also give recommendations to manufacturers. For instance, they suggest that "idiot lights" and "warning signals" be installed in their trucks to alert drivers. 
The sight of this dump truck, hurdling down the highway with its bed raised, reminds me of something which occurs just as frequently. I'm talking about those athletes in competitive sports who celebrate too early in a race. They raise their hands in victory to solicit applause from spectators before they reach the finish line. As a result they lose sight of other competitors who are closing the gap between them. While they're still celebrating their triumph, they become vanquished by an opponent. 
 This happens all the time. Runners and jockeys get a little too prideful and cocky short of the finish line. They raise their hands in victory and lose the race. "Pride goes before destruction and a haughty spirit before a fall" Proverbs 16:18 tells us.   
Remember Jesus. He humbled Himself and made Himself nothing until after the cross – His finish line (Philippians 2:6-11). Then God the Father highly exalted Him and seated Him at His right hand.   
Too many servants of Christ are like that dump truck and those runners who seek to celebrate too early. They're tempted to boast in their achievements and solicit the praise of other people when they should be leaning forward, dedicated to the task, and fixing their eyes on Jesus Christ (Hebrews 12:1-2). They look for recognition and reward while they're still engaged in the race. But for Christian servants the finish line won't come until we hear from Jesus, "Well done, good and faithful servant" (Matthew 25:21, 23).   
Until that time, while God has us running our race, we mustn't be distracted by desires for recognition and earthly reward. Desires for public recognition and temporary rewards may cost us the race – and our eternal reward in heaven.  Let's remember Jesus, "who for the joy set before Him endured the cross and its despicable shame and has now sat down at the right hand of God's throne" (Hebrews 12:3). 
PRAYER: Dear Father in heaven, please help me to stay focused on Your dear Son, Jesus Christ. Let me not be distracted by desires for and pursuits after the praise and recognition of people. May I only seek to please You by faithfully running this race of faith. Amen. 
(Information from:  https://www.upi.com/Odd_News/2020/05/22/Dump-truck-with-raised-bed-collides-with-highway-overpass/6501590179906/?sl=13; https://www.thesportster.com/entertainment/top-15-athletes-that-celebrated-too-early/) 
---