Haystack Rock is a 235-foot high basalt monolith that protrudes in the Oregon town of Cannon Beach. Haystack Rock was originally an intrusion of molten volcanic rock that was forced upward. Having been formed thousands of years ago, it was once connected to the shore. But now it stands alone, while all the surrounding bedrock has been worn away by the relentless pounding of the storm waves and the wind.  
Why did it resist the effects of erosion, while the sandstone and siltstone are all gone? It stands alone because of its composition and strength. Haystack rock is made basalt, an extremely hard volcanic rock – much harder than the sandstone and siltstone that once surrounded it.  
Note that geologists, interpretive signs, and publications do not praise the absence of the eroded sandstone and limestone. They highlight that which has resisted the effects of time and erosion – the basalt monoliths that remain. So, geologists do not consider Haystack Rock as being stubborn, resistant, and out of step with the vanished geological features. They consider this basalt monolith as extremely strong and durable;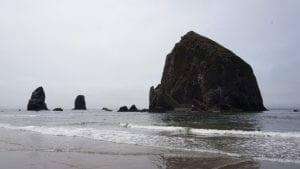 they see a monument of strength and an icon of the northern Oregon coast. Nor do they credit the easily eroded sandstone and limestone for being progressive or tolerant because they caved and gave ground. Geologists consider those sedimentary rocks to be weak, incapable of surviving the ravages of the wind and waves. 
In a similar way, strong Christian believers should not view themselves as dimwitted, intolerant, or out of touch with the times. These things do not apply to those who maintain the moral high ground in society and refuse to give into temptations or yield to persecutions. Believers who stand firm in their convictions display strength not weakness. Believers who do not yield to the relentless waves of criticism and societal rejection display fortitude. As the basalt monolith is wave- and wind-resistant, so the believing Christian is temptation- and sin-resistant.  
The Scripture says, "Be strong in the Lord and in his mighty power. Put on all of God's armor so that you will be able to stand firm against all strategies of the devil. For we are not fighting against flesh-and-blood enemies, but against evil rulers and authorities of the unseen world, against mighty powers in this dark world, and against evil spirits in the heavenly places. Therefore, put on every piece of God's armor so you will be able to resist the enemy in the time of evil. Then after the battle you will still be standing firm" (Ephesians 6:10-13, New Living Translation).   
PRAYER:
Dear Father in heaven, please help me to stand firm in my faith. Make me resistant to the evil influence of the enemy. Arm me, O God, with Your strength and may Your attributes be my armor. Grant that, when the battles and storms of this life are over, I will still be standing. Amen. 
---
Article Photo: "Haystack Rock" by Kristina D.C. Hoeppner, licensed under CC by 2.0