The United Press International in Wuhang, China, once reported on a humorous, but embarrassing event. It appears that 4,500 Reserve Soldiers assembled in an auditorium. Their commander ordered them to sit down in unison. When they complied a noticeable "ripping sound" emitted from the group.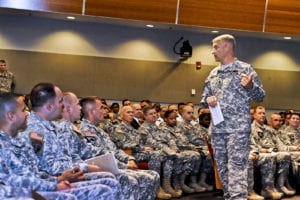 More than 100 of the Soldiers had simultaneously torn the seat of their pants. It is unknown if the mass-tearing was due to the poor quality of the pants (which were actually quite expensive) or to the Soldiers being overweight. But the event raised serious concerns among military leaders.
If the military can't even keep its pants from ripping, how can it succeed in combat?
This reminds me of a scene from the 1983 screen adaptation of Tom Wolf's historical novel, The Right Stuff. In October 1957, the Soviet Union had just launched Sputnik – the first artificial satellite – catching America completely off guard.
President Eisenhower called an emergency meeting of his cabinet to discuss America's response to this scientific achievement. Members of the Senate Arms Committee are arguing and wailing over the ominous military implications this Soviet advancement presents.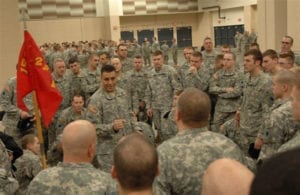 The first step is to view a film of the Sputnik launch. But when someone tries to operate the projector – nothing happens. They forgot to plug the projector into the electric socket.
It raised the unspoken question, "If we can't even get a simple movie projector to work, how can we hope to compete with the Soviets in a space race?"
Knowing we're poorly prepared to face a crisis is a terrible feeling. Pro-Football Hall of Famer, Merlin Olsen once said,
"One of the most painful moments comes when we must admit that we didn't do our homework, that we are not prepared."
This is what we work so hard to avoid. This is why we train so relentlessly – so that we'll be able to rise to the occasion with confidence, defeat America's enemies, and establish peace in the world.
So be faithful and steadfast in your military calling. And don't forget your spiritual fitness.
In the Scripture, King David – a great military commander who knew how to find God in a crisis – declared:
"As for God, his way is perfect: The Lord's word is flawless; he shields all who take refuge in him.  It is God who arms me with strength and keeps my way secure.  He makes my feet like the feet of a deer; he causes me to stand on the heights.  He trains my hands for battle; my arms can bend a bow of bronze.  Your saving help is my shield" (Psalm 18:30-35).
 PRAYER:
Almighty and merciful Father, please help me not to lose heart or grow weary in our relentless pursuit of warfighting excellence. Arm me with strength for battle, empower me, and make me more than equal to my challenges. Amen.
---
Information from http://www.upi.com/Odd_News/2014/10/06/100-pairs-of-pants-rip-at-Chinese-military-event/8091412609916/