On April 30, 1975 the city of Saigon in South Vietnam fell to the invading forces of the North Vietnamese Army.
In the days during the city's demise, hundreds of Americans and tens of thousands of South Vietnamese were evacuated from the city by scores of U.S. Air Force, U.S. Marines, Air America, and South Vietnamese helicopters. Many of these evacuees found refuge aboard the decks of the aircraft carrier, the USS Midway.
At one point more than 100 helicopters and several thousand South Vietnamese civilians (3,071 in a 30-hour period) crowded the Midway's flight deck. In this chaos something took place that left an indelible impression on the memories of the American people. U.S. Sailors pushing American-made UH-1 Huey helicopters overboard into the ocean were caught on camera. These pictures reached the American public without explanation. Therefore, they reinforced the views of many that the Vietnam War was a senseless and tragic waste.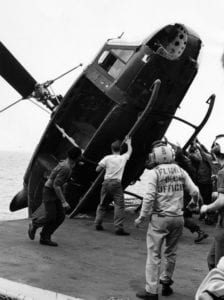 In reality those images of discarded helicopters represented something very noble and profound about the U.S. Sailors and Marines aboard the Midway. In their desperation to save as many South Vietnamese evacuees as possible, the Sailors pushed the empty helicopters (which belonged to the South Vietnam Air Force) to make room for other aircraft to land. These other aircraft were packed with more people seeking sanctuary. They valued human beings more than machines and did everything humanly possible to save them.
In that desperate hour there was one particular aircraft—a small, single-engine, airplane (a U.S. O-1 "Bird Dog") that kept circling the Midway. The flight deck crew tried to direct the pilot to ditch his plane beside the carrier, with the intention of rescuing him. But then the pilot dropped a note from the plane onto the deck, wrapped in a leather holster, which read: "Please move aircraft from runway—my wife and five children are on plane and I must land!" In a desperate effort to save the lives of this family, the Sailors pushed empty helicopters out of the way. Many went overboard into the sea. Finally, the plane landed safely. And from it emerged a South Vietnamese Air Force major, his wife, and their five small children. A roar of jubilant celebration erupted from the Sailors and Marines.
This story illustrates what the U.S. Military Services are all about: making a difference for good in this world. Though often vilified by the very ones they defend, the U.S. Armed Forces remain an instrument of peace, justice, and freedom from oppression throughout the world. Pray for the men and women of our Armed Forces—that God will protect them, inspire them, strengthen them, grant them success in their mission, and bring them back safely into the arms of their families and loved ones. The Scripture says: "By faith they (i.e., the soldiers—David, Jephthah, Samson, Barak, and Gideon) conquered kingdoms, …from weakness were made strong, became mighty in war, put foreign armies to flight" (Heb. 11:32–34).
PRAYER:
Almighty and merciful Father, please bless the men and women of our Armed Forces and the officers who lead them. Please also bless our President, who sends them into battle, and grant him wisdom from above that he may lead our country on the path of righteousness. For righteousness exalts a nation, but sin is a reproach to any people. Bless and protect, O Lord, our Soldiers, Sailors, Airmen and Marines. Please lead them from victory to victory and grant them supreme success as your instrument of justice and peace in Iraq, Afghanistan, and throughout the world. Amen.
If you are dealing with this issue, you do not need to face the challenge alone. Jesus has conquered every challenge so you can move from your present situation to a life of overcoming hope. Invite him to lead you in your journey. He will forgive, comfort, and heal you.
There are warriors who know what you are going through and can give you guidance. Please click one of the buttons below and allow one of them to connect with you. Your connection and correspondence with with them is completely confidential.