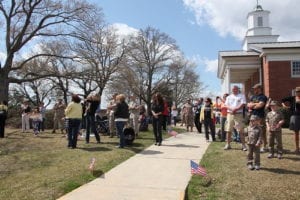 It looks like a smoking church steeple–or at least a smoking bell tower! It's got the octagonal shape. It's tall. It has four speakers protruding from it that play chimes—like some church steeples do. And it's connected to the Main Post Chapel at Joint Base Lewis–McCord, WA. It's the chapel steeple, right? But why is it smoking?
A Disguise?
Actually, it's the smokestack for the chapel heating system. That's right, it's just a smokestack that releases the spent fumes from the church gas furnace. But, why then is it made to look like a church steeple? To fool us? No.
Maybe the original smokestack was an eyesore and the builders wanted to improve its appearance—so that it blended in better with the rest of the chapel. But the builders gave it more than a merely aesthetic function. They gave it the power to play music to soothe and inspire the human heart, to call people to worship and draw them nearer to God.
"But it's just a dirty smoke stack! Why try to pass it off as some "saintly" church steeple? Why try to adorn something that is aesthetically unredeemable?"
A Special Reminder
Perhaps the builders wanted to give us a reminder of what Christians are. They are sinners saved by God's redeeming love and grace. Someone might rightly criticize those who attend the chapel, "What hypocrites you all are—trying to pass yourselves off as saints! You're nothing but a bunch of dirty sinners like the rest of us! You're like smokestacks disguised as church steeples!"
Quite true! But sinners are what Christ pursues. They are the ones he calls to himself. "The healthy have no need of a physician, but those who are sick. I have not come to call the righteous, but sinners" (Matthew 9). Sure, we're like a bunch of unsightly, smelly smokestacks. But God "adorns us with garments of salvation and wraps us in the robe of His righteousness" (Isaiah 61:10).
He puts a song in our hearts and helps us to sing a pleasant tune. He beautifies our lives and helps us to be less offensive. We still give forth smoke, but Christians are works-in-progress that will not be perfected until eternity. In the meantime, though we fail, we strive to do better and be more and more like Christ. Though failure mars our record, "the blood of Jesus Christ, God's Son, keeps on cleansing us from all sin" (1 John 1:7) and we remain "confident that He who began a good work in us will perfect it unto the day of Jesus Christ" (Philippians 1:6).
PRAYER:
Dear Father in heaven, I make no claims to perfection or purity. I acknowledge my own frailty and sinfulness. But I thank You for Your great mercy to me, for You have not treated me as my sins deserve nor rewarded me according to my iniquities. For as high as the heavens are above the earth, so great is Your love for me. I cannot buy Your love and forgiveness. I can only accept from You what You freely give me. Thank You, Lord, Amen.
---
In article photo: Families gather at homecoming by U.S. Marines licensed under http://www.usa.gov/copyright.shtml