On July 9, 1776 General George Washington ordered the newly composed Declaration of Independence read to his Soldiers in New York City.
As the Soldiers and Civilians began to grasp the reality of these words and realized that all ties with Great Britain were now severed, many ran to nearby Bowling Green Park where a statue of King George III had been erected six years earlier. The large statue was made of lead and overlaid with gold. The New Yorkers and Soldiers now realized they had effectively died to their old master and now owed allegiance to the American Colonies and its government. So they pulled down the large statue of King George III, cut off its head and melted it down to make bullets to use against the King's armies. Eventually, they melted down the entire statue and from its lead they made 40,000 musket balls! The Army used them in all the successive battles of 1776, culminating with the victory at Trenton.
Defection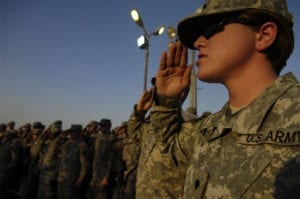 There is something singularly painful to a kingdom when its subjects defect to the enemy. It constitutes an immediate loss to that kingdom and an immediate gain to its enemy.
This is effectively what happens to Satan's kingdom every time a sinner turns to Jesus. Satan loses a slave and God gains a son. A soldier in the ranks of Satan's army, serving to inflict diabolical misery upon humanity, defects to the Lord's Army. Then he begins wreaking destruction on Satan's works. He does so by bestowing healing instead of hurt, by showing love instead of hate, and by blessing others instead of cursing them.
Our War
So be prepared for war. The enemy of our souls is not happy with us for turning our backs on him to serve the God he so intensely hates. But it is infinitely better to face Satan's wrath than God's. It is also far better to give our allegiance to the side that is destined to triumph gloriously and share the joys of heaven for all eternity.
Perhaps this is why the Apostle Paul said so emphatically to renounce allegiance to our old master—sin and instead serve righteousness. "In the same way, count yourselves dead to sin but alive to God in Christ Jesus. Therefore do not let sin reign in your mortal body so that you obey its evil desires. Do not offer the parts of your body to sin, as instruments (Greek hopla, literally, "weapons") of wickedness. Instead, offer yourselves to God, as those who have been brought from death to life. And offer the parts of your body to him as instruments (or, weapons) of righteousness. For sin shall not be your master, because you are not under law, but under grace." (Rom. 6:11–14)
PRAYER:
Dear Father in heaven, I owe You everything. You have virtually bankrupt heaven and withheld nothing in Your efforts to save me. Here and now I pledge my allegiance to You and to Your divine purpose and kingdom. You love is so amazing and so divine that it demands my soul, my life, my all. Amen.
---
In article photo: Salute at sunset by the U.S. Army licensed under CC BY 2.0