David and His Troubles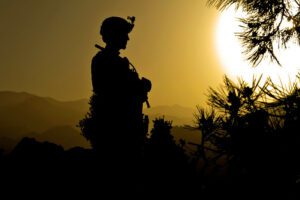 "My Savior, You save me from violence" (2 Samuel 22:3) 
Is David joking? I don't know of anyone else in the Bible who was as immersed in violence and bloodshed as David. From facing beasts, giants, suicide missions, coup d'etats, civil wars, and endless battles with enemy nations, David was so steeped in violence – and forced to be violent – that it disqualified him from building the Temple of the LORD (1 Chronicles 22:8; 28:3). How, then, can David proclaim, "My Savior, You save me from violence"? 
Of course, there's a difference between being kept from violence and being saved out of it. David is obviously stating that, despite all the violence that engulfed him, God had preserved his life in it and through it. He expresses the same idea in Psalm 34:19: "Many are the afflictions of the righteous, but the LORD delivers him out of them all."  David is stating that the righteous will indeed have troubles, many of them. But God does not abandon us to them. He either saves us out of them or preserves us through them. 
This is why David exhausted all the metaphors when he describes God's protection. "The LORD is my inaccessible cliff, my fortress, my Deliverer, my rock, my refuge."  He confesses that he's been thoroughly surrounded by danger and death – "the waves of death encompassed me" – yet God preserved his life. And, even though he's been eyeball to eyeball with countless armed and dangerous enemies, David might as well have been on a high, inaccessible cliff. He might as well have been surrounded by ten-foot-thick stone walls. For God had already ordained that no sword or spear would harm him. 
Therefore, Christian believers should never feel betrayed when God allows trouble, grief, pain, and sickness to afflict them. For none of these things are ever meant to harm us. Rather, God intends for them to transform our inner person into Christ's image and prepare us for eternity in heaven (Romans 5:3-5; James 1:2-4).  
"When through fiery trials thy pathway shall lie, My grace all sufficient shall be thy supply; the flames shall not hurt thee, I only design, thy dross to consume and thy gold to refine."   
According to Hebrews 12:5-11, these unpleasant experiences are the very hallmark of a true child of God. For "those whom the LORD loves He corrects and disciplines."  It's part of God eternal investment in us, the same sufferings which Christ endured to be perfected as our Savior (Hebrews 5:8-9).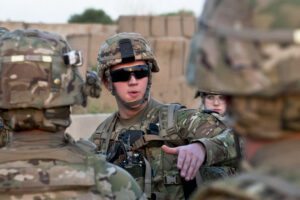 Yet, in another way, David could have accurately stated, "My Savior, You keep me from violence."  For, despite David's many afflictions, God certainly kept him from the vast majority of violence his enemies intended for him. This is why David said, "You, O LORD, are a shield around about me" (Psalm 3:3). God was David's all-encompassing armor, guarding him on all sides – plus above and below. Though his afflictions were many, they were only a fraction of what could have befallen him. 
It's the same with the New Testament believer. God allows some trouble in our lives, but it's only a tiny fraction of what Satan would love to hurl at us. We have no idea of how many auto accidents, ER visits, poisonings, acts of violence, fires, and robberies that would have crushed us without God's protection.  
God only allows a very few, select and specialized trials into our lives. And all of these are tailored to address some specific weakness in our character. So, let's never doubt God's love, sovereignty, or wisdom when trouble comes upon us. God assures us that He will achieve the very best outcome for us through whatever trouble He allows (Romans 8:28). 
And remember, God keeps His ears cupped to hear our cries for help. Here in 2 Samuel 22:7, David writes, "In my distress I called upon the LORD … and my cry came into His ears."  Don't ever think that God's too busy running the universe and that He couldn't possibly hear you above all its noise and distractions. God's mind and attentiveness are infinite. There's no limit to the number of things He can focus His attention upon. Yes, God upholds the existence and order of every atom in the universe. But doing so does not challenge Him in the least.  
God's still got an infinite amount of loving attention to lavish upon you. Therefore, trust in God's attentiveness to your prayers. He hears them, the Scripture says, before you call (Isaiah 65:24) and they forever echo in His ears until He fully answers them. 
And remember, when you pray, you're giving God the opportunity to do something He loves to do – hearing and answering your prayers. In fact, listening to your prayers is at the very top of His priorities. God doesn't get a fraction of the pleasure from upholding the universe as He does from listening to your cry.  
Think of it this way. In two of my military assignments, I served as a chaplain resource manager. It was a numbers-crunching job in which I was perpetually bogged down with renewing contracts, tracking offerings, taking on-line courses for new government accounting systems, blah, blah, blah. Some people really get into this stuff. But for me, it was the least rewarding job I ever had.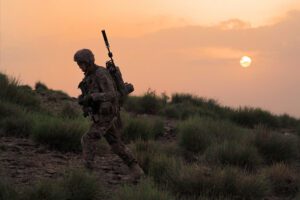 There was, however, one exception. From time to time, financially-challenged soldiers would stroll in, inquiring if they could get some help. Often they'd begin by saying, "Sir, I'm sorry to bother you. I know you're busy, but I was wondering if there's any financial assistance I can get from the chaplain's office." 
My response was always something like this. "Too busy to help you? Are you crazy? Helping you is what I live for. I don't care how many things I've got to do, helping you is at the top of my priorities. It's the only thing that brings me pleasure."   
Now, there might be one or two former chaplain resource managers out there. They'll say, "You should have required the soldier to be more fiscally responsible. Did he bring bank statements and bills? Has he already exhausted the resources of ACS and AER?"  But I dispensed with all those barriers. I refused to be robbed of the one pleasure this job afforded – helping soldiers and their families in need.  
I'm convinced our heavenly Father is infinitely more passionate than me about helping people. We are never intrusion to His vast schedule. Helping us is at the very top of His priorities. Yes, He likes running the universe. But He absolutely loves giving us all the attention and love we could ever contain. Our heavenly Father always welcomes us into His office. He loves to embrace us and hear our every concern and petition.  
So, if you're engulfed by troubles, then pray away to your heart's content. God treasures every prayer and enjoys every minute of your company. 
PRAYER:  Dear Father in heaven, please open my eyes to see Your eagerness to receive me and the pleasure You derive from listening to and answering my prayers. Teach me, O God, the joy and sweet relief of baring my soul to You. In Jesus' name, Amen. 
---