Are you so foolish? After beginning by means of the Spirit, are you now trying to finish by means of the flesh? (Gal. 3:3) 
Patching Problem Areas
The house we made an offer on seemed perfect for our situation, but it needed a new roof. I like being cheap so instead of buying a new roof, I thought of ways to patch up the problem areas. God showed me that my approach to being cheap and patching up problem areas was a picture of how I tried to manage my life.    
I began my career as a chaplain with great enthusiasm and dependency on the Spirit's power to accomplish His work.  I knew I couldn't do great things for God without God working in me. But over the years I lost sight of the need to be dependent on God. I added patches here and there, but it made my "roof" weak and susceptible to the storms of life. For most of my time in the military, I never faced a hurricane-level storm, so the "roof" was never truly tested.  
Reflections on My "Roof"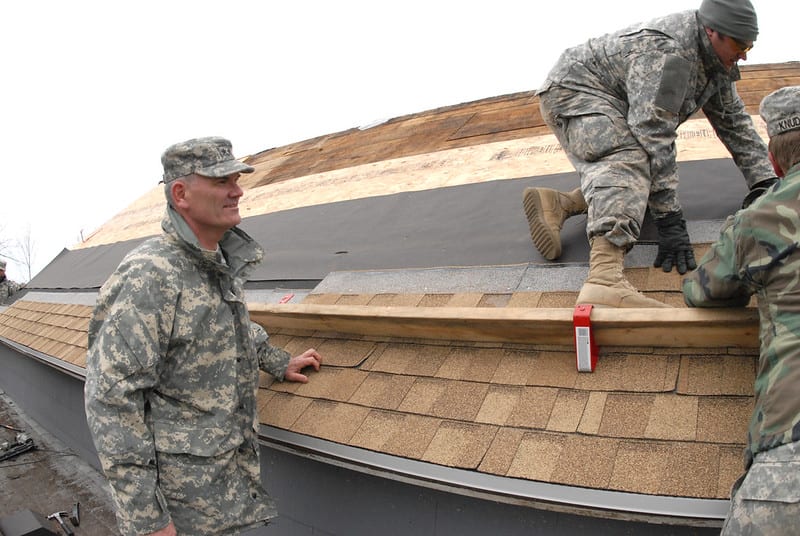 The testing storm came on my last assignment and it decimated my "roof". I had ignored the underlying realities of my lack of humility and avoiding accountable fellowship.   
Instead of humility…    
My pride led me to believe I had made my mark and 

I deserved 

higher positions of authority

. 

 

My pride led me to believe I was one of the best

 at my job

. 

 

 

My pride led me to believe that I was 

critical to accomplishing

 

even 

more 

important work. 

 
Instead of real fellowship…  
I had no one watching 

out for 

how I 

treated

 my family or how I conducted my

self at work

. 

 

 

I had no one checking on my focus

.

 

 

 

I 

helped others but didn't seek it for myself

.

 
The Storm
So when the storm hit, I initially did my best, under my own power, to wait it out. But when things turned ugly, I made a catastrophic mistake by isolating myself from those closest to me. I selfishly searched for what I thought would protect me—and it wasn't Jesus. At times I believed I had Jesus guiding me, but there were constant reminders that I was not on the right path. And I refused to acknowledge or heed those reminders.  
My decisions during that time also kept me trapped in a constant barrage of guilt and fear. This constant cycle blinded me to reality and the truth of the gospel. I became stuck and had no way out until Jesus showed up to begin the repair work. And repair me He did. 
Renovation
In the renovation, He reminded me that I was foolish like the Galatians. I began my career in the power of the Spirit but drifted to working in my own power and for my own glory. I was a fool. But by God's grace, He restored this fool and gave me a vision of how to replace the damaged "roof."  It would cost me time and effort but as I submitted to His repair work in my life, I knew my entire "home" would turn out better than new. 
So today, I rejoice with a grateful heart that the Spirit has rebuilt and continues to rebuild not only my "roof" by my whole "house." He is reinforcing the lessons I learned long ago, the importance of humility and accountable fellowship. 
Humility
Humility says that God has given me a wonderful family, gifts and abilities, and an opportunity to be part of His Kingdom mission. Humility says that I do my work for Him, not for me. Paul reinforced this with
the challenge later in the same book, "So I say, walk by the Spirit, and you will not gratify the desires of the flesh" (Gal. 5:16). 
Fellowship
Fellowship keeps me focused on connecting to my family and those around me. It's the opposite of isolation because it's a deliberate step towards others, even when it is scary or painful. Paul adds "You, my brothers and sisters, were called to be free. But do not use your freedom to indulge the flesh; rather, serve one another humbly in love" (Gal. 5:13). Serving is an engine that drives true fellowship. 
If you have been decimated by a "storm" remember God gives a greater grace that can and will help you rebuild. It's never too late to turn from your isolation to God and others. You will not be disappointed. Ask God to start the repair work today. 
---
In article photo: north dakota by the U.S. Army licensed under CC BY 2.0