A little boy made the headlines. And when I say "little," I mean little! This little boy had a birth weight of only 9.45 ounces! Not pounds, but ounces.
Back in August 2018, this little Japanese boy was delivered by emergency C-section to prevent him from being stillborn. His mother's placenta wasn't providing enough oxygen and nutrients to allow him to grow any more. So, even as an unborn child of 24 weeks, he was as developed as he should have been. He only made the news recently because his parents were finally able to take him home from the hospital as a seven-pound baby. This means that, while in the hospital, this little baby grew to eleven times his original birth weight.
Now, though he is the smallest surviving boy ever born, he is not the smallest baby. Three other surviving baby girls were born lighter than he: weighing 9.34, 9.17 and 8.88 ounces.
You know, there's a horrifying, but unforeseen consequence of living in a world in which it's legal to kill a baby right up to the time of birth. As I read this story I found myself thinking, "Why all the fuss to save a baby which would have been stillborn? Perfectly healthy babies can be aborted right up to 40 weeks. In fact, if they survive the abortion, a doctor can murder them with complete immunity. Isn't this inequality? One baby is privileged to have a team of medical professionals fighting to save his life. Another baby's life is thrown away."
Yes, it is inequality—of the most despicable kind. And "abortion on demand" has created this inequality. Yet so many Americans care nothing about it.
Task Force Eagle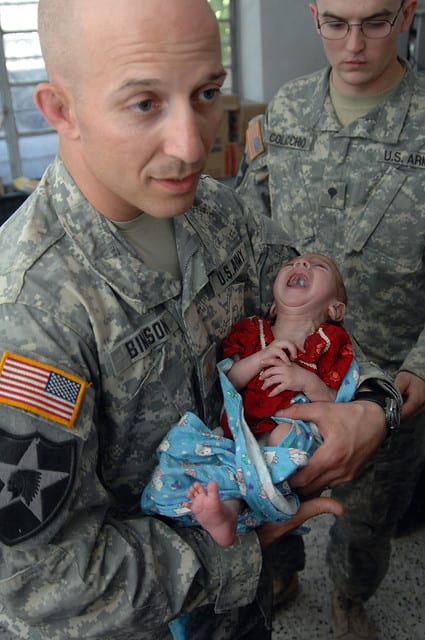 When I thought about this, it made me think of something that happened way back in 1999. My leadership assigned me to a "Task Force Eagle" mission. This was a six-month deployment to Honduras. To prepare for this mission I was referred to another chaplain who had just completed one such tour. "Talk to him," I was told. "He can tell you what to do expect for this mission." So I gave the chaplain a call.
While speaking with him, he gave me some rather disturbing information. After completing his six-month tour, he told me that he would advise the Chief of Chaplains to extend the deployment up to twelve months. "Six months is just not enough time to learn the ropes and become effective," he told me.
As he told me about his efforts, I thought, "Why didn't you come up with this bright idea while you were still in the middle of your deployment? Why did you wait until after you were 'in the clear' to make this recommendation? You only had to deploy for six months. Now you're advising that everyone after you should deploy for twelve months. Thanks a lot!"
Danger Zone
It's easy to recommend policies that will only adversely affect others. It's easy to put the lives of others in danger while our own is quite safe. Yet this is essentially what pro-abortionist lawmakers do. They were conceived at a time when the chances of surviving to birth were optimal. Now that they're a safe distance from the "danger zone" they advocate that those chances be reduced to, in some cases, less than 50%. They are not only advocates of inequality. They, the most powerful people in America, are cowardly oppressors of the weakest.
The Scripture tells us, "We then that are strong ought to bear the infirmities of the weak, and not to please ourselves" (Rom. 15:1). The efforts doctors made to save that little Japanese boy were an example of this. Efforts made by lawmakers to harm the unborn disqualify them from making any decisions that will affect others.
PRAYER:
Dear Father in heaven, please awaken my conscience—and my eyes—to see the inconsistencies and hypocrisy of my own life. Open the eyes of our government leaders and representatives. Restore to them their sanity and sense of decency. Create in their hearts compassion and empathy, as well as a zeal for righteousness. Endow them with heavenly wisdom that they may lead our nation on the path of righteousness. Amen.
---
Information from: https://www.livescience.com/64887-tiniest-baby-boy.html
In article photo: iraq by the U.S. Army licensed under CC BY 2.0