The United Press International carried the story of an Oregon farmer who won a contest for the "largest pumpkin."
Is it Just a Pumpkin?
The winner, Steve Daletas, brought his behemoth pumpkin to the Half Moon Bay Pumpkin Weigh-Off in Northern California. It tipped the scales at 2,170 pounds. As impressive at that sounds, an even heavier pumpkin weighed in at 2,580 pounds only two weeks earlier. This giant was grown by Steve Geddes of Boscawen, New Hampshire. To date, this is the largest pumpkin ever grown in the United States.
But what about the World's Largest Pumpkin? Well, that title belongs to the monster-pumpkin grown by Mathias Willemijns of Belgium. His car-sized pumpkin weighed a staggering 2,624.6 pounds—a record set in 2016 which still stands today.
Wait a minute. Wasn't there a story somewhere about a pumpkin being turned into a coach? Yes, it's the story of Cinderella. Her fairy godmother turned a pumpkin into a horse-drawn coach with a wave of her wand.
These pumpkins may seem like the stuff of legends, but they're most certainly real. And it wouldn't require much imagination on our part to envision one of these giants as Cinderella's magic coach. Her fairy godmother worked her magic with just a five-pound pumpkin. But at 2,625 pounds, such a big pumpkin is already ninety percent of the way there. Our imagination would have a huge head start.
Faith in a Pumpkin
You know, this concept parallels the dynamics of faith in our prayers. Many Christians find it difficult to believe that God will answer their prayers until the request is already ninety percent of the way answered. And even then, they still have their doubts. They fear that something might still go wrong. Before they can believe God will turn their pumpkin into a coach, it has to be one of those monstrously big pumpkins.
Do you remember the prophet Elijah (1 Kings 17–2 Kings 2)? Elijah had prayed for God to withhold the rain in Israel for three and a half years (James 5:17). This was for a judgment upon the land because its people had forsaken God and followed false gods (Deuteronomy 28:23–24). After a demonstration of God's power upon Mount Carmel—where God sent fire upon Elijah's sacrifice—Israel returned to God.
In response to their repentance, Elijah prayed earnestly that God would again send rain. After praying, he sent his servant to the top of the ridge to look for any sign of rain. The servant saw nothing but blue sky. Elijah prayed again. Again the servant saw nothing. Elijah sent his servant to look for massing clouds seven times. Not until the seventh time did his servant finally see a tiny cloud, only the size of a person's hand (1 Kings 18:42–44).
But that's all Elijah needed to hear. He told King Ahab to rush back to his palace to escape the terrible rainstorm that was coming. He himself, empowered by God, outran the king to the city. And in no time a heavy rain fell upon the land, replenishing its rivers and reviving its plant life (1 Kings 18:41–46).
It only required a tiny cloud to answer Elijah's faith. Just the sight of a hand-sized cloud convinced him a storm was on its way. But for many of us, God has to fill the sky with black and threatening clouds before we'll believe. And even then we'll worry, "Will the clouds just pass us by without giving us rain?"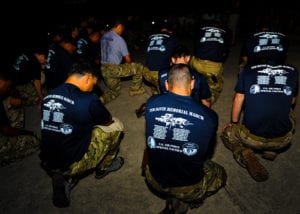 Grow in Faith
But God expects our faith to grow. Our faith should be stronger this year than it was last year. It shouldn't take as big a pumpkin to believe God for a Cinderella's coach today as it did a decade ago. God shouldn't have to fill the sky with clouds before we'll believe Him for rain, as our faith required when we were babes. Our faith must grow.
And faith grows as we listen to the preaching of God's word (Romans 10:17). Our faith grows when we exercise it. And we exercise our faith by recalling all the times in the past that God has answered us and delivered us. We exercise our faith by making prayer our first response to problems rather than our last resort. Exercising our faith by clinging to His promises—even repeating them as we pray. We exercise our faith in God—trusting only in His power and goodness—until the answer comes.
Then we celebrate His response to us, we worship Him, and we never forget what He has done for us. This is what the Psalmist meant when he implored us to, "Sing to the LORD a new song" (Psalm 33:3; 40:3; 96:1; 98:1; 144:9). It is praise to God for a fresh answer to our prayers, a recent deliverance from our fears, and a new demonstration of God's love for us. If we make these things our daily practice, our faith will grow.
PRAYER:
Dear Father in heaven, every day Your gracious hand is active in my life, answering my prayers and guarding me from dangers that I could never anticipate or imagine. Every day You pour Your blessings into my life. Yet I choose to overlook them and focus instead on life's blemishes. O God, please help me to escape this cycle of doubt and unbelief, of complaining and grumbling. Train me to exercise my faith and—as I pray, believe, and praise You—let me witness the growth of my faith. Amen.
---
In article photo: 111016-F-PV498-012 by U.S. Gov Work