One of the darkest periods in biblical history is recorded in the Book of Jeremiah, chapters 40–43.
They tell the story of the "aftershocks" following the destruction of Jerusalem by the Babylonians in 586 BC. This was the greatest catastrophe that befell the Israelite people up to that time. Most of the survivors of the three-year siege were carried away as captives to the dry, sunbaked plain of Babylon. Only the poorest people received permission to stay behind, primarily to maintain the vineyards and fields of the land.
One of these survivors was the prophet Jeremiah. He had long proclaimed God's message that Jerusalem and Judah should submit to the King of Babylon. The people were to recognize that God was the One who had sent this pagan king to punish His own people for their wickedness. Jeremiah's message to Jerusalem had made him the most hated man in town. Consequently, he suffered greatly as God's messenger.
Gedaliah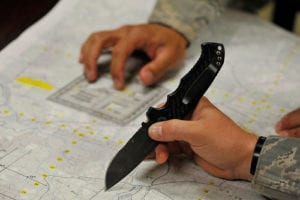 But there seemed to be some hope for the people left behind. Along with the poorest inhabitants, there was also the Babylonian-appointed governor of Judah, Gedaliah. Gedaliah seems to have been an exceptionally good and fair leader. He encouraged all the Judean army deserters, refugees, and other survivors to rally to his side. He offered them protection if they would submit to the Babylonian king and live peaceably in the land. The Babylonian king had also entrusted the princesses of Judah, women of the House of David, to Gedaliah's care. Gedaliah also placed Jeremiah under his protection. Gedaliah assigned a very small garrison of Babylonian soldiers to serve as personal guards and to assist him in enforcing the law.
Then something happened. One of the surviving military commanders from the Judean army, Johanan, came to the governor to warn him of danger. He told the governor that a man named Ishmael, who was of the Jewish nobility, was planning to assassinate him. Johanan offered to foil this plot by secretly killing Ishmael.
What did the good-natured governor do with this bit of military intelligence? How did he respond to Johanan's offer to kill the possible assassin? Gedaliah chose to dismiss this threat and reject Johanan's offer.
Gedaliah's Decision
Why did Gedaliah make this decision? We can only speculate. Perhaps he was politically naïve and didn't want to think evil about anyone. Maybe he feared that Johanan was trying to lure him into taking sides in a personal rivalry between him and Ishmael. I don't know.
But along with rejecting Johanan's offer to help, he also chose not to take any precautions against the perceived threat. Just to show his trust in Ishmael's good intentions, he received him and his guests favorably and honored them with dinner.
It was a tragic mistake. At a moment when the governor and his officials let down their guard, Ishmael and his companions killed them. They also killed the small detachment of Babylonian soldiers and slaughtered many innocent people as well. Ishmael's assassination of Gedaliah left Judah leaderless and destroyed any hope for the survivors of the Babylonian invasion.
This unfortunate event spiraled out of control. Fearing a Babylonian reprisal for the assassination, Johanan and the small remnant of survivors fled to Egypt. They not only disobeyed the prophet Jeremiah's counsel by doing this. They also forced the prophet to go with them to Egypt.
What possible lesson can the believer draw from this depressing story? Click here for the answer: Look Out for Those Who Are in Your Charge (pt. 2).
PRAYER:
Dear Father in heaven, as a parent, help me to act only in ways that will serve the needs of my spouse, children, and family. As a leader help me to act only in a way that serves those in my charge. As a citizen, help me to only choose leaders who will place the needs of our nation before all the other interests that cry out for their attention. Amen.
---
In article photo: Mapping a course by the U.S. Air Force licensed under U.S. Govt. Work