There have been many versions of The Seal of the President of the United States over the last two centuries.
The Seal
This seal is based upon The Great Seal of the United States and displays the American Bald Eagle with its wings spread to the full with a banner, reading E Pluribus Unum, held in its beak. Furthermore, clasped in the eagle's talons are, on the one side, an olive branch symbolizing peace, and, on the other, a bundle of thirteen arrows symbolizing war. Since the time of President Rutherford B. Hayes, the eagle's head was turned toward the arrows, indicating that, as Commander in Chief, the President is poised to defend the Nation and destroy its enemies.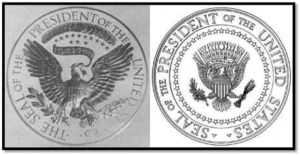 However, in 1945, when America emerged victorious over the Axis Powers in WWII and was the only nation on earth armed with the Atomic Bomb, President Harry Truman ordered a revision to the seal. The most significant change he ordered was that the eagle's head be turned away from the arrows and toward the olive branch. This signified that the President and the Nation were dedicated to peace. As a superpower, America was an occupying force in the lands of its devastated enemies. Yet the most powerful nation on earth was no longer poised to hurt, but to heal, feed, and rebuild. And, under the Marshall Plan, that is precisely what America did for its former enemies.i
God is For Us
We who believe in the Lord Jesus too often forget that God is not poised to punish us, but to bless, heal, and help us. In addition, He who is almighty has turned from wrath and judgment to grace and love. We do not cringe under His frown. We rest securely in the warmth of His love. The Scripture reminds us that God's wrath and judgments have already been poured out on His Son Jesus who bore our sins upon Himself (John 1:29; 5:24; Romans 3:25–26; Hebrews 9:26; 1 Peter 2:24; 1 John 2:1–2).
Therefore, God has nothing but love to lavish upon us as His dear children (1 John 3:1–2). God is for us, not against us (Romans 8:31–34). True, when Christ first found us, we lay at His feet defeated, broken, and desperately sick. He lifted us up, embraced us and made us whole—and continues to do so unto eternity.
Therefore, let's not shrink back in fear, but draw near to Him in faith. If you've placed your faith in Jesus, then God's cleansed you of your sins and clothed you with His righteousness. He's made you fit to be in His presence. Come to Him, then, and bask in the warmth of His love and be healed.
PRAYER:
Dear Jesus, thank you that I don't live under Your frown—cringing in fear of Your anger, disapproval, and judgments. By Your atoning sacrifice they are forever behind me. You have "loved me with an everlasting love and drawn me to Yourself with cords of lovingkindness" (Jeremiah 31:3) and "You have clothed me with garments of salvation and wrapped me in the robe of Your righteousness" (Isaiah 61:10). Thank You for so great a salvation. Amen.
---
Information from J. K. Kelley, The Book of Incredible Information, p. 424.