Be Christ's Hands Extended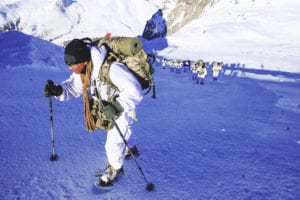 A heart-warming story appeared in the news during October 2021. It told about a couple's extraordinary efforts to bring their family together for a wedding. Karen Mahoney and Brian Ray are ski instructors who live in New York. They met 35 years ago, when Brian taught Karen how to ski, but their lives went in different directions after that chance encounter.  
But with a mutual interest in skiing, it was inevitable that they'd meet again. In fact, they began working together as ski instructors and fell in love. Then, finally, in March 2021, Brian proposed to Karen. She accepted and they wanted to get married as soon as possible. But there was a problem. Karen's parents and only surviving grandparent – her 96-year-old grandmother, lived across the border in Quebec. While a few of Canada's international travel restrictions (due to Covid-19) recently lifted, those which remain in place are keeping Karen and her family apart.  
Karen couldn't bear not sharing "the happiest day of her life" with her parents and grandmother. Brian and Karen set their wedding date for late September, hoping travel restrictions would be lifted by then.  
They didn't. So, as the wedding date approached, Brian contacted a friend who worked as a U.S. Border Patrol officer and asked him if there was any place along the U.S./Canadian border where they could possibly conduct the wedding. The friend arranged for the couple to hold their ceremony at the Jamieson Line Border Crossing, where Burke, New York, meets Quebec. The location was simply a meadow with no fence or wall. Only stone markers indicated where the border was. 
At this spot the wedding took place, with Karen's parents and grandmother standing only inches away – but still on the Quebec side. Though no one was allowed to step across the border, Karen and Brian were still able to exchange hugs and kisses with her family. A larger and more formal ceremony took place the following day in New York, with all their friends and other family members attending. Yet, despite its simplicity, it was the small ceremony in the meadow that borders Canada and the U.S. which was most meaningful to her. 
"I was so excited," the bride explained. "I've seen my grandmother only once in two years. So, it was very emotional; we both cried. And she expressed to me later that to witness the happiest day of my life is a moment she would never forget." 
This story struck me as such a wonderful example of people doing whatever is possible – under numerous restrictions – to be together for a meaningful moment. The Covid-19 pandemic has been terrible trial for just about everyone. While excessive restrictions may have prevented the spread of illness, they have also increased the burden.  
So, let's not make it worse than it has to be by adopting a toxic "religious" attitude. It's not the time to be self-righteous about our adherence to vaccine regulations, while criticizing, condemning, and shunning – as a religious zealot would shun an excommunicate – those who are not compliant. Nor is this the time for "the shunned" to retaliate. 
This is not the way Jesus taught us. Think for a moment how Jesus would have responded to today's pandemic and its accompanying phobias.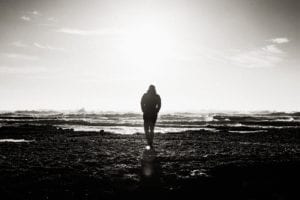 I can say this much. Jesus came to seek and to save those who were lost (Luke 19:10). And He didn't let anything stop Him or get in the way of that mission. Jesus not only allowed lepers to touch Him, He insisted on touching them in the process of healing them (Matthew 8:1-4). And the danger wasn't only of getting infected with leprosy. There was also the religious defilement which contact with an infected person brought (Leviticus 13:1-46; Numbers 5:2-4).  
But Jesus was not worried one bit about religious defilement when it got into the way of saving souls. He took the hand of the dead little girl (a defiling act according to Leviticus 21:1-3; Numbers 6:6) to raise her from the dead.  He also allowed the hemorrhaging woman to touch Him (also a defiling act – Leviticus 15:25-30) to heal her.  
Of course, Jesus didn't become defiled. Although the unwavering rule in the Old Testament was that uncleanness was always transferrable to the clean, cleanness was never transferable to the unclean. Jesus, however, was the one wonderful exception to that rule. When He touched the leper, it was not Jesus who became unclean, rather it was the leper who was cleansed. Nor was Jesus infected, but the leper's infection was cured. When the bleeding woman touched Jesus' clothing, He wasn't defiled. But she was healed. When Jesus took the dead little girl's hand, He wasn't defiled. But she was raised to life.  
This is one of the many beautiful things about Jesus. Neither sin, defilement, nor infection has any power over Him. Rather His touch on us removes them all. Nor does Jesus allow anything to get in the way of saving us. Against the protests of His disciples and the condemnation of the Pharisees, Jesus attended the parties of sinners in order to reach them with the Gospel (Matthew 9:9-13). Jesus searches for those who are lost – just as the shepherd searched for the lost sheep and the woman for her lost coin (Luke 15:1-10). And I suspect that both the shepherd and the woman got plenty dirty in the process of searching. 
So don't be like the world, shunning those who don't measure up to our standards. Let's be like Jesus, reaching out to others, rather than cutting them off. Let's be Christ's hand extended. 
I know that, when we've been ostracized, it's tempting to retaliate in kind. But we must follow Jesus and be like Him in all things. Though we've been shunned and belittled, we must keep the door open and keep reaching out.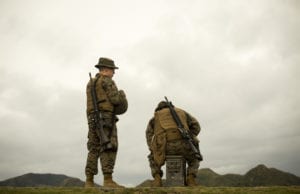 PRAYER:  Dear Lord Jesus, I cling to You for grace, for cleansing, for strength, and for salvation. Without You, O Lord, I can do nothing. Without Your grace and power, I'm as weak and frail as any sinner. So, please help me, Lord Jesus. Fill me with Your love and power. Let me be Your hand extended to a hurting and hurtful world. In Your most holy name I ask this, Amen. 
(Information from: https://www.upi.com/Odd_News/2021/10/01/wedding-United-States-Canada-border-Karen-Mahoney-Brian-Ray/5711633112390/; https://www.cnn.com/2021/09/28/us/couple-marries-on-canadian-border-covid-19-trnd/index.html) 
---