Below are some additional interactions on the article: When it Happens to a Friend. Read it first.
Map:
King David wrote many of the psalms, and this one references Jerusalem at the very end. This is what Jerusalem would have looked like during the time of King David. Real human drama happened here just like it does where you live.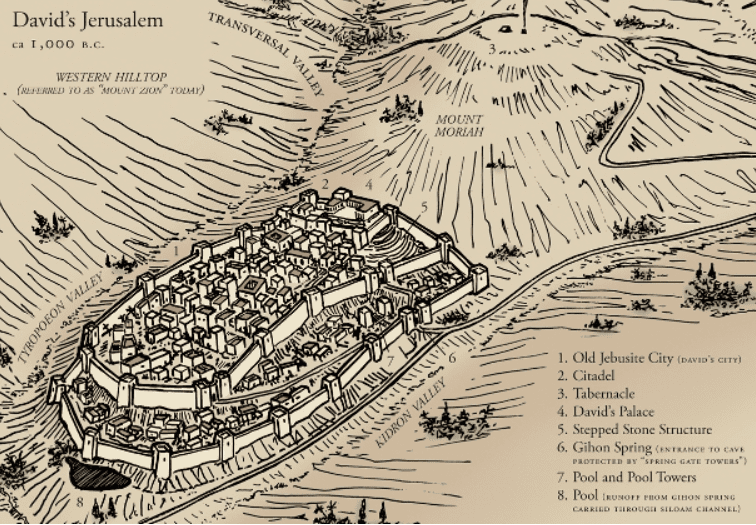 411:
The reality is that this may be too much for you to handle. The grief that your friend is experiencing over the death of their mom or dad may seem insurmountable. Instead of trying to handle it all on your own or look for help from other friends who may be over their head, have the courage to seek out help from people who are experienced and educated. One resource is through your youth leaders and chaplains. Other parents and trusted adults can help, too. Perhaps your base has grief counselors. They can help you or connect you with someone who is equipped to guide you. Another can be found though the Department of Veteran's Affairs.
For more information, click here.
Scripture:
Psalm 31:9
Psalm 147:3
Matthew 5:4
John 14:27
John 14:18
Psalm 46:1
Psalm 30:5
Small group guide:
When It Happens to a Friend SG (2)
Video:
Watch this clip from the movie Soul Surfer. Bethany, after losing her arm, is struggling to understand how this is a part of God's plan for her life. In her eyes, her future is ruined.

From the movie, The Karate Kid, in which Dre helps comfort his grieving friend:
Large group guide:
When It Happens to a Friend LG
Life Questions:
Rewrite Psalm 116 in a journal or notebook. Make the words or phrases that are important to you bigger, give them shapes and colors. Use drawing, writing, etc to express the parts of the psalm that describe your soul right now and spend some time articulating those feelings to God.
Look at the Supporting Scripture section and choose one to memorize this week. Put it by your bed, fridge, locker, or somewhere you will see it multiple times a day. Tell your friend why you chose that verse and what you both need to understand about Jesus Christ's presence in your lives.
Write your own psalm, poem, or prayer and try including the 3 components from Psalm 116—That God is present in your life, that your emotions (no matter how conflicting or extreme) are real, and that his love is constant and all encompassing. If words won't come to you at this time, find another way to communicate these things to God like drawing, dancing, making a video, whatever way you find easiest to talk to Jesus.
Music:
These songs all talk about helping a friend through a tough time. Some are specifically about military and some aren't. Some are about hope and some are not. As you listen, consider the message in each, which ones resonate with you, and which ones accurately speak of God's presence in these times of sorrow. Let them show you what emotions you are in the midst of right now and talk with God about them.

---