Below are some additional interactions on the article: Plugged In and Fried. Read it first.
Map: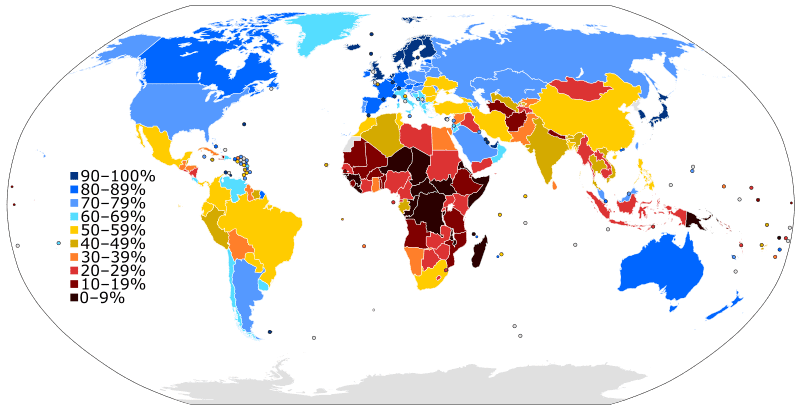 Check out this map showing the Internet coverage of the world. Pretty insane when you think about the not too distant past!
Challenge:
Each day this week go here. Pick any chapter from the book of Proverbs and print it out. Read through and as you go, circle the parts that stand out to you as helpful advice for dealing with this tech-saturated world. Look for advice on how to be kind to others, how to know what's important in life, knowing when something is selfish or sinful rather than God-honoring, how to deal with bad people, and more! I guarantee you there will be some helpful advice for how to live a life for God full of joy and fulfillment!
Quizzical:
Check out this quiz and find out how tech savvy you are! (although ignore the prompt to brag about yourself please; that's exactly the sort of worldly habits we need to quit!)
Audio:
Part 1
Part 2
Part 3
Part 4
Scripture:
Job 28:28—If you're wondering how to navigate those tough situations, this verse is a big neon arrow pointing the way!
Proverbs 15:3—What you do is not a secret. God knows it all.
2 Corinthians 4:18—Don't get caught up in the lie that only fame, wealth, and beauty matter. God intends so much more for you!
2 Corinthians 5:16-18—The old is gone, be excited with this new life God has given you!
Small Group Guide:
Video:
This is a fantastic expressive poem about technology in our lives and the importance of taking a step back to truly connect with those around you. Enjoy!
Large Group Guide:
Life Questions:
Think of a time that you have felt overwhelmed by technology. Maybe you couldn't study because your phone was getting blown up, or you experienced being bullied on Facebook. Whether it was you looking at porn or being passive aggressive with a frenemy, write a paragraph about what you were feeling and thinking when you experienced it. Think back on what the context of your day was and what motivated you to make those choices. Then talk with the Lord for a while and be ready to receive his guidance.
Pick one of the supplemental Scriptures and memorize it this week. Put it by your bed, fridge, locker, or somewhere you will see it multiple times a day.
Reflect:
Perhaps for the first time you are beginning to realize how compromised your faith has become. If you have been overwhelmed by the social media and the instant gratification offered online and you have been living a life that is self-serving, read through Psalm 51:10-13. If it describes your heart's desire to pursue a life devoted to God rather than this broken world, I would encourage you to use it as a prayer. Talk with Jesus about his love for you. Listen to what he tells you. God adores you and will transform you if you give your life to him.
Create a pure heart in me, O God,
and put a new and loyal spirit in me.
Do not banish me from your presence;
do not take your holy spirit away from me.
Give me again the joy that comes from your salvation,
and make me willing to obey you.
Then I will teach sinners your commands,
and they will turn back to you.
LOL:
This clip from Over the Hedge might be a good representation of how some of you feel about being online. Just try getting 3 days behind on twitter and trying to catch up – "It never ends! It never ends that way too!"
---