Below are some additional interactions on the article: Unpacking Your Suitcase. Read it first.
Map: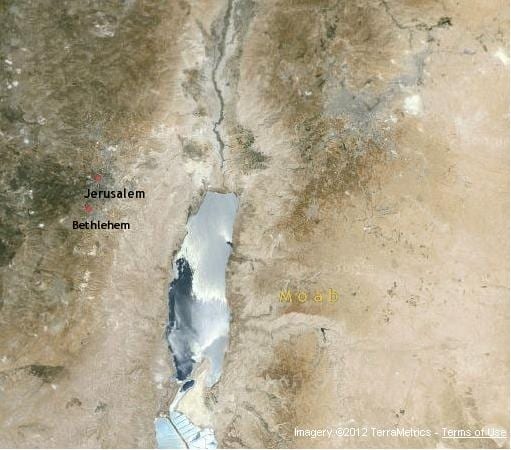 Take a look at Naomi's home in Bethlehem and where she lived in Moab. This area represents an entirely different culture and customs for living. When she and Ruth (a Moabite woman) left Moab, they traveled back to Bethlehem where Ruth was the foreigner. View the map.
411:
The words Grief or Grieve are based on the idea of a burden or being encumbered. Therefore, to grieve is to carry a burden and be weighed down by a concern or trouble.
ORIGIN Middle English (also in the sense [harm, oppress] ): from Old French grever 'burden, encumber,' based on Latin gravare, from gravis 'heavy, grave' (see grave 2 ).
Now look at what Jesus says in Matthew 11:28–30
28 Come to me, all of you who are tired from carrying heavy loads, and I will give you rest. 29 Take my yoke and put it on you, and learn from me, because I am gentle and humble in spirit; and you will find rest. 30 For the yoke I will give you is easy, and the load I will put on you is light.
Challenge:
In a new home (or even your current home if you haven't moved recently), try inviting Jesus Christ into every room by asking a blessing as you move from place to place.
Here are some suggested prayers:
At the entrance:
O God, protect our going out and our coming in; Let us share the hospitality of this home with all who visit us, that those who enter here may know your love and peace.
Grant this through Christ our Lord.
In the living room:
O God, give your blessings to all who share this room so that we may be knit together in companionship.
Grant this through Christ our Lord.
In the bathroom:
Blessed are you, Lord of heaven and earth. You formed us in wisdom and love. Refresh us in body and in spirit, and keep us in good health that we might serve you.
Grant this through Christ our Lord.
In the kitchen:
O God, you fill the hungry with good things. Send your blessing on us, as we work in this kitchen, and make us ever thankful for our daily bread.
Grant this through Christ our Lord.
In the dining room:
Blessed are you, Lord of heaven and earth, for you give us food and drink to sustain our lives and make our hearts glad. Help us to be grateful for all your mercies, and mindful of the needs of others.
Grant this through Christ our Lord.
In the bedrooms:
Protect us, Lord, as we stay awake; watch over us as we sleep, that awake we may keep watch with Christ, and asleep, we may rest in his peace.
Grant this through Christ our Lord.
Amen.
Words:
I wrote this poem after my first month at a new school. It's about the disposition of the people who I met.
On Display

by Kristen Perkins
A room of two-way mirrors is my fate,
with strangers looking at me,
dissecting my body and mind
with their cold eyes
and even colder words.
Forced to deal with their cynical
views of those that surround me.
They entrap me in their webs of self- consciousness.
But –
despite the empty stares,
and demeaningly harsh words,
I untangle myself from their webs of destroyed dreams.
Then, I break the two-way mirrors
they watch my every move with.
I did not receive a spider bite,
or a cut from the broken glass.
Instead, I find myself in a world of refugees,
like me.
They, too, escaped their dooms.
Together we work at rebuilding
ourselves into the people we once were;
the people we admired before.
Stories:
I've included two different stories here. One is in a picture and the second represents a military brat and her experience of not helping a newcomer to her community.
Story # 1
Here's a 'story' in a picture drawn by a 6th grader named Shekaylah. She was attending Macdonald Intermediate School at Fort Knox, KY, when she drew it. The she moved. It may be simple, but it tells a story that we are all familiar with. (This is from Military Child Education Coalition 2011 Calendar—March)
Story #2
When I was a sophomore I became friends with a group of 4 other girls. The 5 of us pretty much hung out every day. We'd eat lunch together and do things on the weekend. Some of us hung out one on one, like Marie and I; but, not all the girls in the group were equally close to each other. You probably have had a few groups of friends like this.
One of the girls, Bethany, moved to our base halfway through the school year. She joined our group soon after arriving, and I liked her a lot. She had come from being stationed in Japan and had really cute clothes and a wicked taste in movies and music. Every lunch she was there and on the weekends, if we were all 5 together, she came along. I considered her part of the group, even though I never got that close to her or hung out with her alone.
It wasn't until my freshmen year of college, after having a few experiences as the new kid, that I looked back on Bethany and that time with feelings of guilt. I realized that even though I was friendly and let her tag along, I never sought her ought directly. I never tried to specifically make her feel welcome.
I found her on Facebook that year and apologized. I knew from my experiences that having someone intentionally pursue a personal relationship can do so much to make you feel as though you belong. I wanted her to know that I was sorry for never making that effort, and, if I could go back, I would have done things differently. I now understand what it was like to be an outsider.
Audio:
Part 1
Part 2
Part 3
Part 4
Part 5
Scripture:
Daniel 1:1–21—This is a story of a young man who found himself in a very different place, yet he adapted well in spite of being forced to leave his home.
Genesis 2:8–17 and Genesis 3:21–24—Adam and Eve, the very first humans lived in a beautiful place called Eden. Yet, because of their disobedience, God moved them out, and life was drastically d
Exodus 12:31–39, Exodus 13:17–22 and Exodus 14:5–14—The Israelites had been slaves in Egypt for 430 years! God finally provided a way for them to leave, and while
Philippians 2:1–8—Jesus 'moves' from his home in heaven to come to earth as a man.
Video:
Josh Radin sings an interesting song called No Envy No Fear. Perhaps an attitude like this would help us in the transition form one location to another. It's actually pretty biblical advice; Job 5:2 (NIV) says, "Resentment kills a fool, and envy slays the simple." And 1 John 4:18 (NIV) says, "There is no fear in love; perfect love drives out all fear. So then, love has not been made perfect in anyone who is afraid, because fear has to do with punishment."

(Check out the lyrics here: JOSHUA RADIN – NO ENVY NO FEAR LYRICS)

Recording artist Michele Tumes talks about moving to US
Check out this scene from Cheaper By The Dozen when the family is told they are going to move! I think you'll find some of these things very familiar!

Unpacking Your Suitcase—the move from Dave Sanders on Vimeo.
Life Questions:
Sit down and write a list of things you have lost by leaving your last home. Be as detailed and complete as you can be. Take some time to deal with your feelings and talk with someone. Even though your last PCS may have been a year ago, you may find that you haven't handled this process well. Going through it now can help heal past wounds over unresolved grief.
Find someone to show you the ropes at a new location. Maybe that's someone you already know who lives there, maybe it's the Club Beyond leader, maybe it's someone at the school. Also consider the Youth Sponsorship Program. Just paste this link into your browser: http://bit.ly/XdeoAd
Ask God to show you he is with you and that he cares. Remember, you can cry to him, talk to him, and even express anger to him. He loves you!!!!!
---